Team Metal Finishing Inc.
---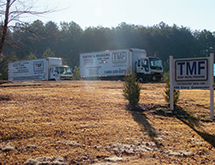 At Team Metal Finishing (TMF) Inc., all employees are ready to pull their own weight, Vice President of Sales and Marketing Quentin Holbrooks says. "No one minds working hard to ensure that we provide the best possible metal surface finishing services," he declares.
Based in Toccoa, Ga., the firm's services include gold, silver and nickel plating, electro polishing, anodizing, passivation, and chromate conversion and chrome replacement coatings. TMF started operations in 1988, providing zinc-plating services, Holbrooks says.
"We quickly learned that [it] wasn't very profitable," he admits. "We moved to nickel, anodizing, gold and silver plating, [and] we've just expanded from there to meet customer and market demand."
Today, TMF serves many industries, including automotive, aerospace and defense, as well as manufacturers such as Yamaha Motor Corp. USA and Energizer. "There's a little bit of everything that comes through here," Holbrooks says. 
---