The Braun Corp.
---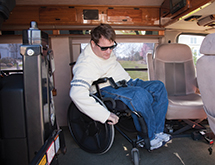 It's rare that a business can say it legitimately helps people by giving them more freedom and mobility, but The Braun Corp. can. Based in Winamac, Ind., the company manufactures wheelchair vans and lifts that are sold around the world, Manufacturing Engineering Manager Andrew Roberts says.
Founder Ralph Braun started the company in 1972 and was its first actual customer, Roberts says. When Braun was young, he was diagnosed with spinal muscular atrophy, which left him unable to walk and confined to a wheelchair at the age of 15.
Braun found that the use of his wheelchair left him exhausted, so he developed an electric scooter called the Tri-Wheeler in his cousin's farm shop in 1963. With the electric scooter, Braun could travel to work in any kind of weather. 
When his employer relocated, Braun converted a former post office jeep by adding a wheelchair ramp. "He could drive that back and forth to work," Roberts says. When the first full-size van hit the market, Braun created a lift that came out of the side doors.
The innovation gained Braun the attention of the disabled community, many of whose members wanted him to build ramps for them, as well. "He got calls from other parents saying, 'We have a kid that's in the same situation,'" Roberts says. "He [manufactured them] every night in his garage with his cousin."
---