The Kinetic Co. Inc.
---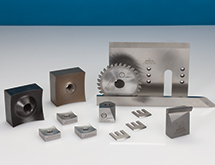 Established in 1948 by C.L. Masters, The Kinetic Co. Inc. is a family owned firm that began as a one-man, garage-based operation. The company now resides in an 80,000-square-foot facility in Greendale, Wis., and has 110 employees. Kinetic is run by the founder's grandsons: Jared Masters, president, and Cash Masters, who serves as the vice president. 
To help serve international clients, Kinetic also owns Microblade, a circular saw manufacturing company based in Sheffield, England. In January 2014, Microblade also acquired Tempered Tools of Sheffield, a 200-year-old manufacturer of shimless tooling for the steel slitting industry. "Each of these operations working together, whether it be sales force coordination, or shipping and handling of product for customers, enables us to cost-effectively handle our world-wide customer base," Jared Masters says.
Kinetic manufactures 20 categories of knives and offers 5,000 different SKUs. "We're unique compared to our competition," Masters notes. Whereas most of its competitors make blades for a single industry, such as paper cutting or steel cutting, Kinetic manufactures blades for a range of industries including paper, wood, plastic, metal, and food processing and packaging applications. 
Masters says that working in a variety of industries helps its clients. For example, Kinetic has been able to transfer the knowledge it has learned from manufacturing blades for different industries. "For cutting plastic film, the blade has be very sharp and refined," he says. "We've been able to apply this knowledge of paper cutting and modified the blade to use for film." He adds that since the applications are similar, the solution can lie in simply machining an existing blade to create something totally new.
---