The OurPets Co.
---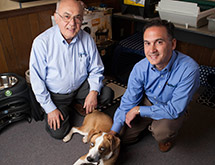 If asked to calculate in dollars just how much they love their dog or cat, most people would likely consider them priceless. Although the level of affection and companionship people feel for their pets can't easily be quantified, the amount of money they spend each year on their furry friends can be.
According to the American Pet Products Association, an estimated $60 billion will be spent in 2015 on pet products in the United States, an all-time high. Thousands of companies and products are competing for a piece of this lucrative market, but only a few can truly call themselves leaders. 
For 20 years, Fairport Harbor, Ohio-based manufacturer OurPets has claimed a position at the top of the industry when it comes to product innovation.
---