The TharpeRobbins Co.
---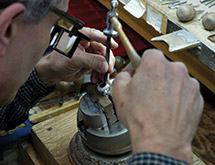 If there is anything an employee needs to stay engaged in their job, it's the right amount of recognition for their hard work. The TharpeRobbins Co. helps other firms in nurturing that loyalty, Senior Vice President Anthony Luciano says.
Based in Statesville, N.C., the firm offers managed employee reward and recognition programs through in-house creative services, software development, jewelry manufacturing and distribution centers. "We help customers solve business problems where increasing employee engagement is key to their success," he states.
Founder Charles Robbins started the company in 1892 as a jewelry company. The first piece it manufactured, Luciano notes, was a campaign button to promote Benjamin Harrison for president. 
---