Therma-Tron-X Inc.
---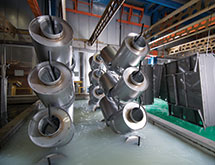 When people come to work at Therma-Tron-X (TTX) Inc., they must have a passion for what they do, co-owner Chad Andreae says. "We love coming up with solutions for our customers and we love exceeding the expectations.
"Customers can see that we give it our all and we have developed a reputation for being innovative, can-do problem solvers," he continues. "Success comes out of doing what you love."
Based in Sturgeon Bay, Wis., TTX manufactures automated E-coat, powder and liquid paint finishing systems and water and wastewater treatment systems for manufacturers and contract shop coaters. Founders Otto Andreae and Ray Sherman started the company in 1969 as a producer of custom-built industrial ovens.
---