Thermwood Corp.
---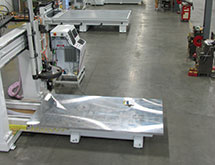 From its beginnings, Thermwood Corp. has incorporated a high level of technology in its business. The company was established in 1969 as a plastic molder of wood-grained parts. 
During the last 40-plus years, Thermwood has developed a number of innovations. These include a unique molding process and the first commercial CNC machine tool control. Much of the plastic molding and trimming machinery Thermwood used was designed and built in-house. 
"Thermwood began selling this trim equipment for plastics, composites and woodworking applications and the CNC router was born," Vice President of Marketing Jason Susnjara says. 
---