Triangle Fluid Controls Ltd.
---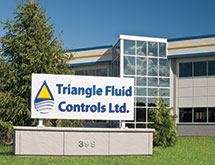 As regulations on the allowable leakage in fluid or gas systems become more stringent around the world, Triangle Fluid Controls Ltd. is working to provide its customers with tighter sealing and gasket products to reduce emissions. 
"Since 2007 we have been involved in figuring out new gasket products and sealing products to put in the marketplace where we see a need," Vice President and General Manager Mike Shorts says. "We have nearly doubled our product offering in the past six years to better serve our markets." 
The Belleville, Ontario-based company began in 1922 as Durabla Canada and manufactured gasket products. The company began to develop new products over time and Triangle Fluid Controls was created from Durabla in 2007. 
---