Viking Pump Inc.
---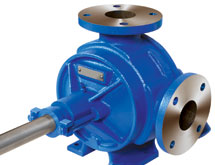 It takes a lot for a company to make it to the century mark, and Viking Pump has made it clear that it has what it takes to do so. Since 1911, the company has been a leading force in the market for rotary positive displacement pumps, and Director of Operations Gordon Davis says that's because the company is recognized as an innovator as well as a reliable provider of equipment customers need. 
"I believe we're adding value to our customers by the performance that we're offering them as well as the products from a quality and functionality standpoint," Davis says. 
The company's early success was built on the invention of the rotary internal gear pump by Danish immigrant Jens Nielsen in 1904. According to the company, Nielsen was operating a limestone quarry in Cedar Falls, Iowa, at the time and required a solution for water seepage. He developed the rotary internal gear pump to help drain the quarry, and patented his design that same year. In 1911, Nielsen partnered with P.C. Petersen, W.L. Hearst and George Wyth to form Viking Pump, so named because of the Danish heritage of the founders as well as the connection between Viking explorers and the innovative nature of Nielsen's creation.
---