Watteredge LLC, A Southwire Company
---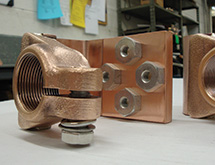 When companies around the world need custom-engineered, high-performance current-conducting devices for industrial and commercial uses, they look to Watteredge LLC, a Southwire company.
"Our products are sold across several industries," Vice President of Sales and Marketing Robert LaRussa explains. These include the steel, chemical, chlorine, power generation, energy, fiberglass, aerospace, automotive, foodservice, printing and medical industries in both short-run as well as high-volume production.
"Typically, what the product does is it carries in most cases DC current from point A to point B," LaRussa continues. "The product principally utilizes copper, and in some cases aluminum." The products include air-cooled and water-cooled cables, along with press-welded shunt products and a variety of electrical products that condition or regulate electrical current, such as transformers, inverters and switchgear.
---