Western States Machine Co.
---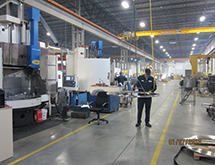 Western States Machine Co. has been manufacturing centrifuges for nearly one century and its commitment to keeping its customers' machines running – no matter how old – along with its dedication to innovation, continues to set the company apart.
The Fairfield, Ohio- based company was founded in Salt Lake City, Utah and incorporated on April 11, 1917. By 1920, Western States established a relationship with Cuba, the world's leading producer of cane sugar at the time, and from there it expanded to Canada, Peru, England, Mexico, Puerto Rico, Santo Domingo, Scotland, Korea and Japan. Today, the company manufactures centrifuges for the sugar, pharmaceutical and chemical industries in more than 35 countries.
"We have been around since 1917 and when we first started, we were one of the first players in the market and we controlled it," Director of Sales and Marketing Bob Sinnard says. "We dominated the sugar industry across the globe." The competitions today is fierce, but it is that same competition that pushes Western States to innovate every day, making sure it stays relevant to its customers and ahead of the curve. 
---