White House Foods and National Fruit Product Co.
---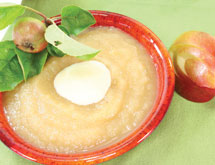 Do consumers want to tear open a pouch of apple sauce or open it with a cap? Although that might seem like a minor concern in the full spectrum of apple sauce production, it is that "last mile" to the consumer that can make this a half-million-dollar question.
For White House Foods, which does business as the National Fruit Product Co., CEO David Gum guessed wrong at first because of his concerns with the cap and additional expense. After all, Tropicana was going with the tear pouch, and he reasoned that the combined research couldn't be wrong.
---