White Rock Inc.
---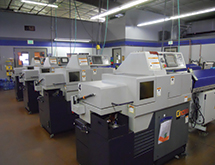 Becoming a successful precision manufacturer requires everything from first-class capabilities, experienced personnel and a high level of customer service to competitive pricing, rapid deliveries and flawless quality. Utah's White Rock Inc. has demonstrated that it can provide the service, reliability and quality products that its customers need.
"Our defining mission is to make as many excellent parts as we can on time for our customers," President David Luman says. "We are a service organization. We have a great work environment, and our facilities are top class." 
White Rock's focus is on precision manufacturing, CNC machining, lean manufacturing, CNC prototyping and rapid prototyping. It specializes in precision small parts manufacturing, and takes advantage of the latest technology machinery, programming and cutting tools.
Based in North Logan, Utah, the company operates out of two state-of-the-art buildings totaling 21,500 square feet. Its portfolio includes an array of Swiss-type lathes and vertical machining centers, as well as an array of support and inspection equipment. 
---