Zodiac Aerospace
---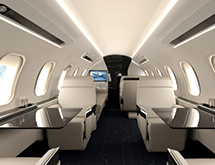 When entering a business aircraft, one can only be impressed by the elegance, comfort and functionality the cabin interior provides to its occupants. From leather seats to exotic wood cabinets, these details are top of mind for the team at Zodiac Aerospace, which strives to provide the best cabin interiors when designing high-end interiors and components for business aircraft OEMs. 
"Our customers' needs are different, ranging from full interiors totally integrated and ready to install all the way down to raw composite panels," says Jean Pelchat, president of the Business Aircraft Cabin Interiors division. "Our role is to adapt to our customers' needs by making sure we can help them achieve their desired results." 
Zodiac Aerospace has been in the aerospace field for more than a century, ever since it produced its first hot air balloon. In 2002, the company launched its Business Aircraft Cabin Interiors division that specializes in the design, engineering, fabrication and integration of the finest interiors for OEM customers. These products include cabinets, periphery elements like sidewalls and headliners, and seating upholstery. 
---