Safety in every stitch
As a producer of high quality, functional workwear, protective clothing and specialist PPE, Ballyclare has developed a strong reputation as a company that ensures safety in the most demanding of environments
With every garment designed from scratch, British designer, manufacturer and distributor Ballyclare operates to the highest of standards to ensure it remains a trusted producer of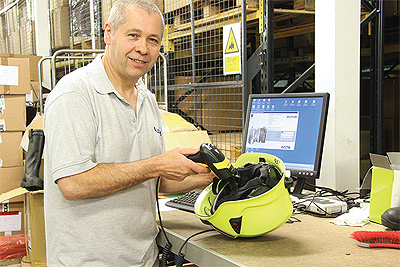 structural and specialist firefighting kit, and protective clothing for the emergency services and armed forces. Additionally, by combining its knowledge and experience across these different sectors, the company can be relied upon to deliver the best protective workwear on the market, whether one jacket is required, or an entire workforce needs to be equipped.
Since Ballyclare was previously featured in Manufacturing Today Europe in December 2016,the company has introduced a range of fire suits under the name Xenon. Using the technologically advanced GORE® PARALLON® System, Xenon provides a real revolution in fire kit thanks to the adoption of a brand-new approach to creating multi-layered, multi-functional, structural firefighting clothing. Moreover, Xenon is the ultimate high performance 'free movement' fire kit as its designs are sports-wear inspired and ergonomically designed with reduced bulk and weight.
"We have undergone a lot of research to look into the activities that firefighters go through and have sought out ways to improve performance, which is why we've designed the Xenon range to have more flexibility. For example, the way we produce the panels that go into the fire suit is done in a way that ensures higher flexibility and is more comfor table; we have also taken inspiration from other sectors such as ski-wear and leisurewear. Furthermore, we looked at the latest fabrics and materials that are available and as a GORE licensed par tner we saw they brought out brand-new moisture management technology, the GORE® PARALLON® System, which is more lightweight and breathable while also offering very high levels of thermal protection," says Carlton Greener, Director at Ballyclare Limited.
Alongside the launch of the Xenon firefighting suits, the company has also been awarded a number of contracts, including a major new order for up to 4300 Xenon multifunctional firefighter rescue jackets to Nor th West Fire and Rescue Services. The jackets are designed for the sort of firefighting and rescue activities associated with emergency response and training operations, and feature a durable outer-shell. The jackets are certified to Wildland firefighting standards and provide an outstanding level of waterproofness as they incorporate a lightweight, durable GORE® CROSSTECH® moisture barrier that provides protection from blood and bodily fluids, while also keeping the wearer dry.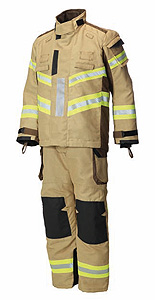 Carlton continues: "Another contract that we recently won was with An Post, the Irish post office, for a GORE-TEX® rain suit for postal workers. For this we delivered 6000 waterproof suits in May and June of 2017, following intense testing that included an eight-hour rain test to show the product wouldn't leak over an extended period of time. Undertaken at GORE's rain tower in Germany, the test was successful and demonstrated that the product met extremely high standards. We also won a tender to supply Network Rail with GORE-TEX® foul weather waterproofs as well as a range of fire retardant, high-visibility products in 2016."
Since being awarded this contract, Ballyclare has been offering its products more widely throughout the rail market and has also introduced a new range of polycotton and knitwear in high-vis orange that meets the high standards of Network Rail. This focus on the rail market comes at a transitional time for the company, which has recently restructured its sales division and appointed a number of new sales and marketing managers, with the goal of penetrating new and existing markets more aggressively.
"At the beginning of 2017 we appointed a new Sales and Marketing Director, Roger Foster, who has operated in the industrial workwear market for more than 20 years," says Carlton. "With Roger coming into the business with all of this exper tise, we are changing our offer to a further extent so that we can also supply to the distributor market. This will give us a lot more opportunity to increase growth across the industrial workwear market, with Roger focusing his effor ts on the high visibility rail range and our trusted brand Pioner®, which we sell into the oil and gas market.
"To help these goals of reinvigorating the Pioner® brand into the oil and gas market and pushing further into the rail sector, Roger has restructured our field sales team so we now have three key sales staffto cover the UK, Charlie Clarke, Paul Hunt and Anne Marshall, with the goal of delivering more face-to-face contact with customers."
With the restructure anticipated to make a big impact over the next six months, Ballyclare will also remain focused on the markets that it sells to with the goal of strong, steady growth over the next two to three years. "We want to build on the fact that we are a manufacturer and designer that delivers the whole design, development and delivery package to customers. While we have recently brought out the Xenon range, this will keep developing as it is important to remain at the forefront of design in the marketplace," Carlton concludes.
Ballyclare Limited
Products: Manufacture and distribute workwear and protective clothing