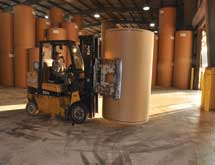 The statement "Continuous improvement of everything we do" comes straight from Green Bay Packaging's Arkansas Kraft Division's (GBP-AKD) quality policy. "However, it is more than words, it is how we do business at Arkansas Kraft Division," Vice President Matt Szymanski says. "We operate a very lean organization," he stresses. "We have assembled a strong management team that work well together in accomplishing their departmental objectives as well as the overall divisional objectives."
Each year, every operating area develops value-added objectives that are measured and reviewed at the end of the year by the management team. "I encourage our team to be aggressive when developing their objectives," Szymanski says. "Striving for continuous improvement by establishing value-added objectives, monitoring and measuring the objectives and reviewing our results together keeps our group on the same page in accomplishing our overall goals."
GBP is a privately held company based in Green Bay, Wis. It was founded in 1933 and employs more than 3,000 people across 30 divisions in 15 states. GBP manufactures corrugated containers, linerboard, pressure sensitive label stock, solid fiber folding cartons and lumber products. Szymanski is the leader of the Arkansas Kraft Division in Morrilton, Ark. "The executive team gives each vice president the authority to run the business," he says.
"Our structure allows us to make good decisions quickly."
Technical Training Center
"One good decision that is paying dividends was the creation of our state-of-the-art Technical Training Center," Szymanski says.
"We built the Training Center in 2008 and had our first class on Jan. 9, 2009. The Training Center is industry driven and allows AKD the flexibility to be very innovative with the training of our people. We take people from the production ranks and develop them into highly skilled maintenance technicians within a period of four years.
"We are bringing people into our Junior Mechanic Training Program that have an aptitude for maintenance work, but previously haven't been involved in the maintenance work force," Szymanski continues. "These are people who are very interested in the further development of their mechanical, electrical and instrumentation maintenance skills. It makes us more efficient in the near term because we've got new people in the field that are relatively higher skilled than they would be if we didn't have the program."
In addition to the Junior Mechanic Program, GBP also has started an Incumbent Training Program. This program allows it to bring in its incumbent top journeymen – mechanical, electrical and instrumentation – for refresher training as well as new technology development training in their respective maintenance fields. Learning in this environment with skilled craftsmen provides an extra bang for the buck. Not only do the participants learn from the instructor led classroom portion and hands-on lab exercises, but the synergy between the participants allows them to learn from each other.
"The industry-driven curriculum we follow for maintenance in our Technical Training Center teaches the participants to do more precise maintenance which has improved the reliability of our facility dramatically," Szymanski says.
"For example, let's say there's a pump that runs 24/7, 365," he continues. "If we maintain it to a precision state, it runs to seven years versus three years.
"We're investing in long-term re­sults for our operations by moving to a proactive approach versus a reactive approach by extending the mean time between failures and responding to equipment problems on our own terms rather than the equipment running to failure," Szymanski adds. "We have put our focus on maintaining reliability."
New Recycle Plant Project
GBP-AKD is dedicated to a high level of recycling and environmental consciousness that has set the standard for its industry worldwide. As an integrated manufacturer, GBP-AKD manufactures linerboard and medium, which is supplied to GBP's corrugated box plants, as well as to other manufacturers. The AKD mill, located in Morrilton, Ark., utilizes a large percentage of recycled materials to produce kraft linerboard and medium.
The existing recycle plant has been in operation for more than 30 years and operates with an 85 percent yield or a 15 percent fiber loss. This is a high loss rate compared to modern recycle fiber plants, which operate with an 8 to 10 percent fiber loss.
As throughput demands have in­creased, the aging recycled fiber plant has not been able to deliver the quantity of fiber that the two paper machines require. To compensate for this discrepancy, a new state-of-the-art, $24 million recycling plant is being constructed.
The new recycle plant will increase the mill's maximum production capacity by at least 70 tons a day. This is made possible by improving the cleanliness of the recycled fiber supplied to the machines and allowing the use of more old corrugated container (OCC) fiber in the sheet. The use of more OCC in the sheet will improve drying and allow the machines to speed up. The 800-ton-per-day plant will allow flexibility in the utilization of OCC to offset virgin stock as dictated by costs.
The mill's current sustainable average fiber supply limit is 1,230 tons per day. With normal losses throughout the paper-making process, this fiber supply can support a sustainable average machine production of 1,205 tons per day sold.
The mill has demonstrated the ability to produce more than 1,250 tons per day of saleable paper. However, currently this level of production cannot be sustained due to an inability to process enough recycled fiber, according to the company. This equipment upgrade project will allow for future production increases on the machines and will strategically support the production of more medium grades.
Although the new plant has more equipment, the maintenance costs will be equivalent to or less than the maintenance costs of the current two recycled fiber plants. The current recycled fiber plants are maintenance intensive due to their age and because they are operating beyond their design capacities.
Moving Forward
The phrase "Continuous improvement of everything we do" really captures the exciting things going on at GBP-AKD, the common denominator being a quality work force, the company says.
"I think that our strengths are our people," Szymanski says. "We have put together a very solid team at AKD. We are excited about the future and look forward to the challenges."