PoolPak International LLC
Most people don't think about humidity until there is too much of it, in which case it is all that they can think about. For the owners and operators of large indoor swimming pools, thinking about humidity and temperature control is a daily activity. Maintaining control of the humidity and temperature levels is paramount to ensuring that indoor pool patrons are safe and comfortable. Additionally, it is essential to maintaining the strength of the building structure and the condition indoor swimming pool accessories. For more than 45 years, PoolPak has been recognized as a leader in indoor swimming pool dehumidification, manufacturing high-quality and reliable systems that provide accurate control of the humidity and temperature conditions in the indoor swimming pool space. President Bob Paley says the company is proud of the reputation it has built in the industry, based upon reliability, quality, and hard work.
The initial technology behind the PoolPak product line was developed in the early 1970's by York International Group, now known as Johnson Controls. In 1986, the PoolPak product line was spun off into its own company and sold to its current owners. Today, PoolPak is one of the leading manufacturers of indoor swimming pool dehumidification systems, serving a wide variety of customers including hotels, athletic complexes, educational institutions, and commercial pools. In building a relationship with each customer, Paley cites that experience, reliability, and a quality product are critical factors to the success of PoolPak. "We have over 45 years of experience; we are a very strong company and stand behind our products." Paley says. "We take pride in our high level of customer service to our customers, showing them just how the dehumidification industry should work."
Even though PoolPak faces fierce competition from companies outside of the United States, who hold exchange rate advantages, Paley says PoolPak continues to hold a strong position in the marketplace. As international competition continues to grow, Paley mentioned that PoolPak is expanding their presence into new markets and new technologies, anticipating many more years of success to come.
Reliable and Resilient Manufacturing
Perhaps the biggest component of PoolPak's success over the years has been the strength of its proven approach to dehumidification equipment manufacturing. Paley specified that the company's technology provides indoor pool owners with the best possible space usage, energy efficiency, and humidity control on the market. The proven PoolPak approach focuses on having ability to design and build dehumidification systems that meet virtually any customer's needs, while maintaining a reliable and high-quality dehumidification system.
"We operate worldwide and we're able to produce equipment that is suitable for applications that are very different than what we have here in the United States," Paley says.
Indoor swimming pool environments can be very corrosive to mechanical systems due to the usage of chlorine, consistently elevated humidity levels, and the high temperatures of the room. PoolPak equipment is specifically designed for these aggressive environmental conditions, with features such as anti-corrosive coil construction, key components located outside of the corrosive air stream and an extra-durable exterior casing. The combination of features, design, and construction provides equipment that lasts longer than industry's average dehumidification system and contributes to the growing PoolPak reputation. According to Paley, "One of our most distinguishing characteristics that we present in the market is our continued reliability."
PoolPak equipment also provides energy efficient operation through a variety of features. The refrigeration-based equipment recycles energy to heat the indoor swimming pool water and air. Additionally, the company added the ClimatePak® Ventilation Heat Recovery system to its line of dehumidification products. The ClimatePak system takes advantage of naturally dry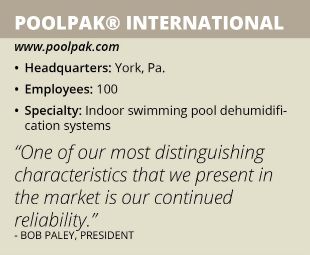 outdoor air conditions to address moisture removal by using fresh outside air rather than using a refrigeration system. Paley says utilizing fresh outside air rather than a refrigeration system has proven to be very effective in improving the energy efficiency of the PoolPak equipment and he expects customers' concerns about energy efficiency to continue to drive that trend further in the future.
Providing True, Overall Value
In discussing the indoor swimming pool dehumidification industry, Paley states that one of the biggest challenges PoolPak faces is the impact of foreign exchange rates. As he explains, some of the company's largest competitors are based in Canada, where the relatively weaker Canadian dollar is artificially lowering prices for customers outside of Canada. Although many customers may be tempted to go with a lower-cost alternative, Paley says there's no substitute for the quality and reliability offered by PoolPak.
"We never really look to be the low-price leader in the market by any means, but obviously customers have a certain tolerance when it comes to price," he says, adding that even though PoolPak doesn't offer the lowest price, it offers customers the highest quality and best overall value in products and services.
Positioning for the Future
PoolPak is well positioned for the future, Paley says, as the company has identified new opportunities for its technology around the world. "I see us basically developing new products, not only in our current market, but we also have the expertise to develop products for other high-capacity dehumidification needs," he says.
With new distribution channels that have opened up for PoolPak, the company will be able to manufacture companion products that supplement its existing product line. "We're very eager to be doing that," Paley states.
PoolPak, along with a joint venture partner in China, will be expanding production of PoolPak dehumidification products. The primary focus of the international expansion is for the local markets of Asia as well as other international markets. "That, we feel, is a very exciting development," Paley concludes.