Bearing the weight
Ab Solving Oy has achieved many years of success in the heavy load industry, providing much needed support to a variety of industries that rely upon its products to conduct their work
Ab Solving Oy will celebrate its 40th anniversary in 2017 and since it was established has become a wellrespected specialist in the design and manufacture of heavy load handling systems. Through its products, its customisation, and relationship with customers, Solving has made itself an important supplier to major companies working across many industries, and now
supplies to over 60 countries worldwide. At its heart it is a creative business that has vast expertise in engineering, which it has paired with a high level of customer understanding and care, and this has helped it to create products that range from simple hand-controlled devices all the way to highly sophisticated automated handling systems.
The company has built upon its current capabilities with the recent investment to build an entirely new test facility, which offers many significant benefits to Solving. Deputy Managing Director Bo-Göran Eriksson provided further details on this: "We have built a very modern test facility where we have the possibility to make all sorts of simulations and test procedures, and it is an important tool for us to check that we have understood and met the specifications of our customers' requirements in the right way. This is an essential part of our business because we do a lot of customising and it is very important to have the option of performance tests and various other analysis mechanisms inhouse. This ensures that if there was to be anything less than we would expect then we can resolve it before it is shipped anywhere." Through taking this approach Solving not only maintains the high standards of product that its customers expect, it also saves the expense of having to deal with an issue that arises once something has already been transported significant distances.
Solving is so confident in its testing process and places such a high value in its relationships with customers that it invites them into witness the analysis procedures. This is indicative of the wider way that the company seeks to engage with its clients, as it believes in having a very close collaboration with them from the very earliest stage of enquiry right through to completion and after sales. Through taking this approach the business has excelled at listening to its customers and building a dialogue with them, which in turn supports the company in creating products that meet their specific expectations and requirements.
It provides this high level of product to a number of industries, which includes paper and print, automotive, railway, aircraft, heavy electric, diesel engine, steel and heavy workshops, offshore, wind power, and nuclear power. All of which call upon the reliability that Solving's products supply, and its portfolio of products support various different needs. Two sectors that the business has seen particular activity within are aerospace and railway, both of which Bo-Göran discussed: "We have had a very good collaboration with one key customer in Europe and developed a good concept of products for moving different aspects of aircrafts in production and maintenance facilities. In regards to the railway industry, this is an area that is experiencing a lot of investment at the moment, particularly for the maintenance of rail cars for example." This trend will no doubt continue, and not just within Europe but also within Asia and the Americas.
Another tendency that will likely continue to grow is the role automation plays. Bo-Göran highlighted this as an area that is significant: "There has been a trend that is moving towards more and more automated equipment since we started, and today the automated guided vehicles (AGV's) is a sector that is expanding and developing fast. The benefits of them are they can be easily integrated with robots as well as with existing and new material handling equipment. This means that you can develop a fully automated system where the automated guided vehicle is a part of that." The range of benefits this development offers also include further improvements for the safety of workers, as well as for the goods and materials, which is incredibly important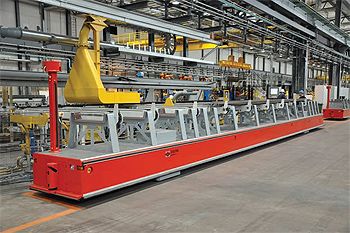 for Solving's customers. Bo-Göran added: "It's also more flexible when compared to conveyor systems and other fixed systems. While also offering increased accuracy and productivity, at the same time as having an interface with warehouse management systems so it's part of the production process. AGV's are no longer used to simply move a load from point a to point b, instead they are part of a more complex system." These are already in use in everywhere from hospitals to warehouses, and they look set to become even more significant in the years to come. Being a selected partner of Kollmorgen, an expert in flexible control solutions for driverless vehicles, Solving is a front end solution provider with competitive technology.
Solving has achieved a great deal in its four decades in the industry, and it is set to continue this in the coming years. The business has already set out a strong marker with its brand new test facility, as well as its recent developments using the latest technology in automation. Therefore, Solving has combined longevity with progress, always finding new ways to apply its engineering expertise to further enhance its products and develop unique solutions to its customer's challenges. It will continue to do so for many years to come, and will no doubt help to shape how automation is used in the industry.
Ab Solving Oy
Products: Heavy load handling systems