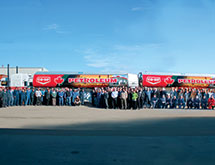 Advance Engineered Products
Founded in Regina, Saskatchewan, in 1984, Advance Engineered Products has built its reputation by creating state-of-the-art truck tanks and trailers. It has become Canada's leading manufacturer of tank trucks, trailers and vacuum truck equipment by committing to quality and continuous improvement.
Today, the company is headquartered in Regina, where some of its manufacturing is done. In addition, it has locations throughout Canada in Quebec and Alberta that manufacture specific product lines and can handle servicing to tank trucks. Beyond serving the tank trailer and equipment market, the company's organizational footprint also includes Lazer Inox, Westech Vac Systems, and Dumur Industries.
Based in Nisku, Alberta, Westech is an industry-leading hydrovac solutions provider. Dumur is a leading precision metal machining and fabrication company headquartered in White City, Saskatchewan. Lazer Inox is a tank designer and manufacturer based in Saint-Germain-de-Grantham, Quebec. The companies complement Advance Engineered Products' offerings.
"For example, Advance is a custom aluminum tank manufacturer, while Westech does vacuum trailers and Lazer Inox does stainless steel tanks," Vice President of Manufacturing Dennis Edwards says. "Those are our three main product lines, and we sell all of them separately but still under the Advance umbrella of companies. Each company is 20 to 30 years old, and together we can supply any type of equipment. We have invested in our manufacturing capabilities, as well as our service and parts offerings, and our goal is to provide high-quality, highly engineered, cost-competitive solutions."
Providing Solutions
Today, the company produces an extensive number of products, from aircraft refuelers and crude oil units to petroleum units and pneumatic units. On all of its units, Advance aims to increase the payload-to-weight ratio to deliver both economy of operation and rugged durability.
Advance employs a team of skilled designers who can work with customers' requirements to ensure maximum performance from every unit. Highly skilled professional craftsmen ensure that each Advance unit possesses superior product integrity.
Advance uses only the finest materials and components in its designs, and it is capable of adding extra-value features into its units that can enhance convenience and ease of maintenance while minimizing downtime. The company employs robust quality-control processes, and it is constantly looking for ways to improve its equipment offerings. In addition, the company's modern, fully equipped manufacturing facilities, coupled with its human talent, allow Advance to devise effective, customized solutions based on customer requirements.
After-sale parts and service are other important aspects of Advance's operations. Its factory-supported parts and service facilities are designed to be first-rate and staffed with qualified service technicians who can respond effectively to customer needs.
Advance has a diverse customer base that includes many major customers as well as a number of smaller customers. The company has facilities throughout Canada, and the majority of its customers are based in Canada. However, some of its customers also have operations in the United States, and the company goes to market in the states through a network of select dealers.
"This year has been a correcting year for some customers and the aluminum business has slowed somewhat, but we've stayed fairly strong with our vacuum and stainless volumes," Edwards says.
Building for the Future
Strategically, the organization is looking to build from a hybrid business model to focus model which no longer combines manufacturing and service into the same locations. It has been working to reduce its manufacturing footprint while improving efficiencies.
"We must have a good pulse on the needs of our customer base and be aligned with their requirements," Edwards says. "We are always looking at operating efficiencies and increasing capacity through capital equipment, training and continuous improvement. Lean manufacturing is a cornerstone of our operations, as we've been looking at everything from standardizing work with verifying cycle time stands and addressing cost throughout our supply chain. We've made some significant strides in our operations and next chapter will be focused on making our factories more visual with real time progress status so operator and local management teams can steadily drive improvement upstream."
Safety is another important investment area for Advance. The company has invested in equipment that improves safety, such as cranes for moving heavy product. At its Westec operations, the organization has invested in a new semi-automated ESAB sub arc welding equipment that allows operators to work on the ground and monitor welding via video monitoring rather than manually welding in the air.
"We've also heavily invested in new Fronius welding equipment throughout the company that has improved the quality of welds and improved ergonomics for our operators," Edwards says.
Other investments include bringing in a router for the aluminum side of the business that allows Advance to keep more services in-house.
"We can insource some business because that can cut the shape of the aluminum, and we can see various benefits and efficiencies, such as reducing the need for inventory," Edwards says. "Overall, our welding and assembly abilities are key, and we need to give our people the tools to be successful while providing our supervisors with the ability to monitor manufacturing in real time."
By increasing its focus on the basics and monitoring a number of KPIs, Advance is in position to reach its goals. It is investing in training and increasing capacity, which the company feels will support the business in the long term. By combining strategic capital investments with reducing costs in its supply chain, Advance and its family of companies should be able to pursue and realize growth.
"In any company, quality products and on-time delivery are critical," Edwards says. "We have a good plan, and we make sure that everyone understands our strategic direction. As we celebrate our 30th anniversary this October, we can look proudly back at our history while taking the next steps forward."