Air Technical Industries (ATI) takes pride in serving all branches of the U.S. military. The company also has provided its equipment to big names such as Boeing and NASA to assist with their projects. For a small operation outside of Cleveland, ATI enjoys being a part of something bigger with these major organizations. Its quality and capabilities allow ATI to meet the needs of government operations and major manufacturers, but the company continues to advance its line to ensure more in the manufacturing industry understand the benefits it can provide.
Based in Mentor, Ohio, ATI has been in the material handling business since its inception in 1964. The company was founded by launching a small, portable floor crane, and now uses the latest technology, new equipment and dedicated personnel to offer a broad line of standard product models. This includes hydraulic lift tables, crate tippers, maintenance lifts, floor cranes, mobile cranes, fork truck attachments, jib and gantry cranes, pallet inverters, and manipulators. Further, ATI has the skills to customize any of these products to the needs of its customers. According to Vice President Vida Novak, it is an ongoing goal for the company to develop new products and solutions for customers' lifting and handling applications.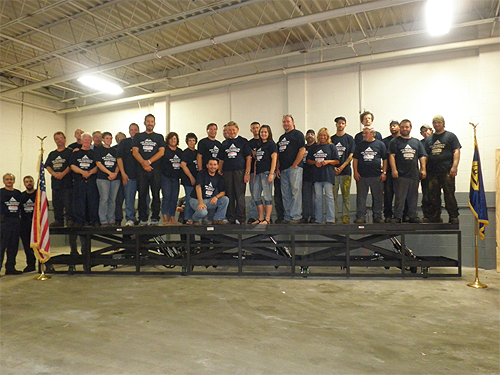 "We are well known for our unique product line and capabilities of being able to modify and customize the products we offer," Novak says. "We are an OEM and have a very broad product line of more than 2,500 models. Beyond our catalog, however, we are flexible enough to modify any designs we offer, in terms of a physical modification such as the length of the crane boom. We can add special coatings or special features, automation, whatever they require. As a result, our biggest niche is in specialty and custom work."
Addressing Ergonomics and Safety
ATI continues to expand its extensive product line with new developments. The Tug Master system, for example, is composed of a self-contained industrial tug tractor combined with a variety of unique, mobile trailers to form a train that simultaneously moves multiple containers of material or parts to each individual workstation. This eliminates a more expensive fork lift, which would require multiple trips to do the same job. Additionally, ATI offers multiple styles of trailers, including a lift-and-carry, high-lift and tilt version. Wheeled baskets, pallets, boxes and equipment can be loaded or rolled on the trailers easily, Novak notes.
"The Tug Master is an industrial tug with a variety of trailers," he says. "With side-loading trailers, customers can move multiple materials around their plants. A forklift only moves one pallet of material at a time. The Tug Master also has ergonomic features so the operator can easily access parts in the bins."
Novak explains forklifts aren't great for every material handling application, and they don't always keep workers safe or comfortable while on the job. "The market seems to be getting away from the use of forklifts for everything," he says. "A lot of the products we offer are designed to handle certain loads, and the forklift is not always the way to do it. If a customer has to pick something up and turn it over, or rig a forklift with chains or straps, or turn something on its side or upside down – that is an improper use of a forklift. People are now understanding that a floor crane or inverter could do this more safely."
ATI has had a lot of success with its Portable Jib Crane that has an articulating forearm, 360 degree rotation and telescopic mast. Its portability allows it to be used indoor or outdoor, without permanent installation. In addition, the unit provides on-the-spot handling and can operate with larger overhead cranes.
"This has been very popular for us because traditional jib cranes have to anchor to the floor," Novak says. "With that, the customer has to pour a new foundation or do major work to anchor it in place. Ours is portable, so customers can pick it up, move it around and use it as a free-standing crane. Customers like ours because they don't want to incur the expense or process of anchoring a permanent crane."
'Tailored Toward Efficiency'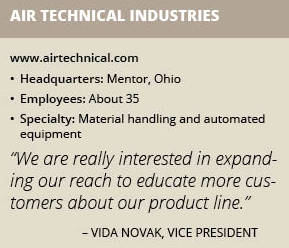 ATI serves market sectors such as aerospace, automotive, metals, plastic injection, food, pharmaceutical, military and oil and gas, and its product line helps clients work more efficiently, productively and safely. This is important for clients' workforces, but also as the manufacturing industry is struggling to get qualified workers – clients need to keep the workers they have. Last year, ATI started an apprenticeship program to train the next generation of workers in its own processes.
The program brings in people who are interested in learning, and ATI trains them in electrical wiring, industrial controls, and hydraulic systems, allowing them to eventually gain a good job making high-quality products. In the past year, the company has had about four candidates successfully complete the program. ATI also needs welders, but Novak explains there are a number of great vocational programs in the area that can help it get people with those in-demand skills.
"We have a great long-term workforce, and we are proud of that," Novak says. "We are really interested in expanding our reach to educate more customers about our product line. There's a lot of companies that don't know who we are and don't realize some of our products even exist, but companies are looking for solutions and we can educate them about certain products. With the products we offer and our capabilities to customize products, we can help companies modernize, increase productivity and efficiency, and improve ergonomics for their workers. Manufacturing can be heavy work, but we can help with products tailored toward efficiency and productivity."