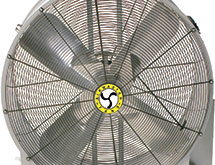 When it comes to cooling hot factories, Airmaster Fan Co. doesn't mess around. "We provide the best-quality fan there is," says Ed Laabs, vice president of sales and marketing.
"Our products are made in Michigan and we also manufacture in China, using superior materials for optimal performance," Laabs states. "This, along with an excellent distribution network, allows us to manufacture the best fan there is in the industrial marketplace."
Relationships and Quality
The Airmaster Fan Co. focuses on relationships and product quality. "We partner with the right distributors and understand the challenges that they face in the field," Laabs says. "We also work with the best professional manufacturing representatives partners across North America. These sales professionals are experts at developing and nurturing relationships. Together, we provide solutions to our end-user manufacturers."
Airmaster Fan also provides customized product training for distributors and representatives utilizing both online and live presentations. "This format allows Airmaster to target specific industry applications and this makes our training relative to the distributors and the market segment where they do business," Laabs says.
"Our Airmaster brand is synonymous with quality, as we sell the best fans in the business," Laabs continues. "The end-user is not going to have to re-buy the same fan every one, two, three or five years. They trust Airmaster. We have had fans in the field operating in excess of 25 years."
Airmaster products use superior materials with higher-gauge metal. "Other brands sell disposable, cheap import fans," Laabs declares. "They use a lesser-gauge metal and inferior components, all for the sake of reducing the price. For us, the best-quality product is the only viable solution." This includes a heavier and wider pedestal base and high-gauge steel from the Alro Steel Corp.
The amount of cubic feet per minute of air that Airmaster Fans produce is certified via the Air Movement Control Association (AMCA) lab. "Airmaster can verify the performance of our fans vs. the competition and this is an advantage that our competition does not offer," Laabs explains.
Airmaster also has an exclusive relationship with a vendor to produce fan motors per their specifications. This separates Airmaster from other fan manufacturers that all procure similar low-quality motors, he says. "This is a big competitive advantage for us because our fans do not look like other brands and offer quality." Laabs states. "Our customers enjoy a lower cost of ownership because Airmaster Fans are built to last. The end-user does not have to settle for an inferior product to move air. End-users are willing to pay a little more for price, providing they receive a quality product. This is exactly what they get with by investing in the quality Airmaster Fan offers."
Airmaster supplies many customers in the automotive, agricultural, food processing and municipal sectors with stocking warehouses across North America. "We not only service the manufacturing and warehouse circulation/ventilation needs in North America, we also work with city/state and government applications in North America. Airmaster also does business internationally in Saudi Arabia and areas of Europe," Laabs points out.
Since Airmaster was acquired by the German-based Maico Group in 2013, its global profile has grown. The combined companies have annual revenue in excess of $170 million. "The Maico Group purchase brings additional new market opportunity, fan innovation and product expertise to Airmaster," Laabs says. "Maico is also family owned so there are excellent synergies and we are excited to be a member of a globally recognized industry leader. I like to tell our customers that Airmaster does not answer to a corporation on Wall Street, instead as a family owned business we answer to our customers on Main Street."
It also sells and markets through buying groups. Laabs is active in both the Affiliated Distributors and NetPlus Alliance Supplier Councils, and was recently appointed to the board of directors for the Industrial Supply Association. "Our partnership with these buying groups has helped to drive our brand exposure with their industry-leading distributors. Airmaster is also committed to the ISA and the relationships that this organization brings to the industry."
According to AMCA, the air circulation market is valued at $4.4 billion, of which $2.6 billion is industrial circulation fans. Yet much of the business flows through big-box channels. "End-user manufacturers buy from independent distributors because they trust them," Laabs says. "We are seeing a paradigm shift as manufacturers begin to think outside of the big-box store and look at independent distributors for fan solutions. The growth potential for Airmaster and our distributor partners offers a bright future for fan sales."