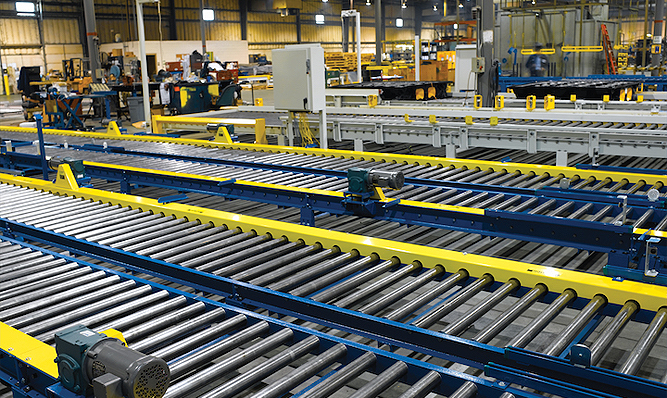 Alba Manufacturing's products are used to taking abuse, whether from forklifts bumping into them or from the long-term effects of carrying heavy loads on a near 24/7 basis. "In the industry we're known for the reliable, well built heavy-duty construction of our systems," Vice President Mike Kroeger says.
The Fairfield, Ohio-based company engineers and designs heavy-duty roller conveyor systems that are typically used to move palletized loads of product. The company works directly with OEMs, distributors and equipment integrators to offer its products and systems in a variety of markets. The end-users of Alba's systems include Fortune 500 companies worldwide. "We supply anybody who needs to move pallets or similar types of product," Kroeger adds.
Systems designed and manufactured by the company are typically smaller than the conveyor belts used to move individual cases or cartons throughout a facility . "We're dealing with systems that are maybe a few hundred feet long instead of miles," Kroeger says. "Our content is smaller in regards to space and movement, but larger in terms of product size and total weight; we are one of the bigger players in this particular market."
Alba matches the sturdiness of its systems with strong customer support. This, coupled with Alba's more than 43 years of experience, has earned it a positive reputation in its industry. "People know who we are and are familiar with our products," he adds. "There are a number of places our systems have been specified into because of who we are and what we've done in the past."
Markets served by the company include aerospace, appliance, automotive, beverage, pharmaceuticals, castings, chemicals, dairy, distribution, food, forgings, foundry, manufacturing, materials processing, palletizing/wrapping, paper, recycling, retail and warehousing. The diversity of Alba's customer base has proven advantageous, as it can typically offset declines in one market with growth in other sectors.
"When the economy took a dive in 2008-09, we saw our business with automotive manufacturers and machine builders decline, but because people stopped eating out, there was greater business from our customers in the food and beverage industry," Kroeger says. "We still suffered like everyone else, but that market was our shining star that really helped us ride out the downturn."
Staying Flexible
Alba was established in 1973 as a custom conveyor manufacturer to provide specially designed and engineered systems. The company today offers pre-engineered products including chain-driven live roller conveyors, gravity roller conveyors, turntables, chain transfers, lift and rotate tables, pallet stackers and drag chain conveyors.
Although it is no longer a custom shop, Alba applies a "building block" philosophy to the creation of its completed systems that enables it to design and provide systems that are adaptable to its customers' needs. "Many of our competitors have standard catalogs and offer only parts from those," Kroeger says. "We are flexible enough that if a manufacturing or distribution facility requests specific options be added to their conveyor, we can adapt to those needs and respond to them instead of just limiting them to a standard product line."
The company starts with core pre-engineered components, which it can then enhance and adapt through one or several of its manufacturing processes, which include assembly, welding, machining, sheet metal fabrication and painting. Alba performs the majority of its manufacturing work in-house. "A typical order for us could be a single five-foot-long conveyor to a complete system," he adds, noting the company's projects can range in value from $2,000 to $2.5 million.
Moving Forward
Alba continues to see an increasing demand for its systems. To meet this demand, the company is increasing its manufacturing capacity by adding 21,000 additional square feet to its production facility, making it 81,000 square feet total.
The expansion, anticipated for completion in April, will house several enhancements to the company's capabilities. This includes adding new robotic welding equipment, high tech parts cleaning systems, high speed tube cutting/boring machine, air filtration system and a new powder coating system. Alba will also increase its warehousing and assembly capabilities.
In addition to adding new equipment, the company is reorganizing its manufacturing floor in an effort to reduce labor and improve work flow. "We want to improve the work environment for our employees as well as create an environment that can attract new workers," Kroeger says.
The reorganization reflects the company's overall focus on continuous improvement, which Kroeger says is influenced by lean methodologies as well as "common sense." "We've always got a hit list of things we're trying to achieve and improve," he says. "We believe in doing things in a way that makes the most sense for us to continue our growth and manufacturing of well-built quality equipment."