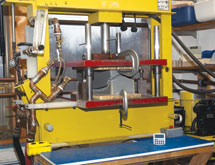 All manufacturers pride themselves on making products that meet a customer's need, however industry-specific or technical that need may be. For medical equipment manufacturer and distributor AliMed, meeting customers' specifications goes beyond seeking input during design and development or producing custom product lines.
Several of the products manufactured by the Dedham, Mass.-based company were conceived by the end-users they serve – doctors, nurses and other healthcare professionals. "We're constantly looking for innovation," Senior Vice President of Operations Jonathan Bretz explains. "We hold 11 patents as well as 60 royalty agreements with customers where we have taken their idea and brought it to market."
One of the company's newest products exemplifies the synergy between AliMed and its healthcare industry end users. Earlier this year the company introduced a new body positioner used to hold patients in the Trendelenburg – flat on the back with feet elevated – position. The device's inventor, an operating room nurse, conceived of the positioner as a way to comfortably and securely hold patients during robotic surgeries and other procedures.
AliMed later this year will introduce a telescoping goniometer invented by a physician that can be used to measure the range of motion in leg and other joints. In July, the company signed a royalty agreement regarding the device, and plans to have it on the market within four to six months after the agreement.
The company's ability to quickly go to market on the goniometer is just one example of what Bretz's calls the company's greatest strength. "I think the thing that sets us apart is we're very nimble and can react very quickly," he adds. "We have an entrepreneurial spirit here, where we can turn an idea into a product within weeks."
AliMed's flexibility and creativity in getting products to market, as well as its emphasis on quality, help the company navigate through a challenging economic landscape.
"In my 31 years here, I've seen the economy go through ups and downs, but this is the first recession that has really hit the healthcare industry hard," Bretz notes. "We're seen downturns before where we've still continued to grow, but this is the first one that's made it difficult to continue our growth. We have had to be more creative in our marketing and how we approach our customers. We're constantly looking for ways to cut costs and become more efficient in our operations."
The passage of the national Patient Protection and Affordable Care Act also presents a challenge as AliMed moves forward. "There will be continued and increased pressure from healthcare providers to lower costs, so we will have to pay close attention and constantly try to drive as many costs out of the supply chain as possible and adding value that is important to our customers," he adds.
Production Capabilities
AliMed both manufactures its own products as well as distributes items manufactured by other companies. It has more than 70,000 products in its line.  Offerings include operating room accessories, diagnostic imaging accessories, rehabilitation aides including fall management, orthopedic devices such as splints and braces and ergonomic products.
"Our customers expect that when they buy a product, they will receive it in a timely fashion and it will work as advertised," Bretz says. "We look at problems our customers have encountered or are encountering in the marketplace and help them solve those problems."
As an example, Bretz cites its recent marketing of a hermetically sealed strap used to position patients in operating rooms. AliMed's strap contains no stitching, unlike similar straps which typically have stitching. These straps need to be regularly disinfected to prevent infections.  Stitching can be a harbinger of bacteria and very difficult to disinfect.
The company manufactures products in its main facility in Dedham. Its in-house manufacturing capabilities include cutting and sewing, packing and assembly, plastic forming, vacuum forming, heat forming, ultrasonic welding and RF sealing. AliMed also has the capabilities to design injection molding parts, electronics and circuit boards. As AliMed is best suited to low-volume, limited-run manufacturing processes and custom jobs, it often seeks to outsource higher-volume work to other companies, including those in Asia. "What we've been trying to do over the last six months in particular is understand what our suppliers' core competencies are so we can funnel them the right kind of projects," Bretz says, noting that the company performs research and development in-house. "We develop specs and, in many cases, initial prototypes for our products and work with outside partners depending on their capabilities."