ALPHR inspects its prospects
Formed in 1986, ALPHR Technology LTD is a privately owned UK company, specialising in the design and manufacture of bespoke machinery for manufacturing industries.
With focus on high quality and performance, ALPHR offers a vast range of solutions to today's manufacturing issues. Many will recognise phrases such as optimising throughput, reducing waste, minimising downtime, increasing first time through and practical automation – all of these are critical elements in the success of manufacturing companies. ALPHR is pleased to have been able to achieve success for client partners in all of these areas.
In-house facilities including project management, electrical and mechanical design, full machine shop and tool making, assembly and wiring, engineering and software allow ALPHR to provide turnkey solutions ranging from stand-alone jigs and fixtures through to fully automated assembly and test production lines.
As a company specialising in system design and integration, ALPHR has a wealth of knowledge and experience in many disciplines used within today's manufacturing, including:
Computer and PLC-based machine control
'ALPHR Test Executive' machine control software
Industrial vision based test, inspection and calibration
Poke-yoke techniques for process control
Data acquisition, storage and analysis
Process automation
Pick and place systems
Open and closed pallet conveyor systems
Cartesian, Scara and six axis robot integration
Sophisticated mechanical handling including robotics
Product communication protocols including K Line, CAN, DS2, RS232, and Profi-Bus
Quality is a key element in the success of ALPHR and the company benefits from accreditation to the ISO 9000 Business Management System.
As a system integrator, ALPHR plays a key role in the introduction of leading edge technologies and techniques to a wide range of manufacturing organisations in many industry sectors. A strong reputation built over many years of partnering major international automotive manufacturing companies has provided a solid platform for the migration of best practices to other manufacturing environments. Long-term partnerships with worldwide customers such as Visteon, Siemens, Continental, NSI, Kautex Unipart and Methode Electronics, ALPHR's client base continues to grow to not only cover an extensive UK market but also an extensive and expanding market in Europe, America and the Far East.
Firmly placed as a high tech engineering company, ALPHR prefers to use computer systems and technologies for machine and process control. The 'ALPHR Test Executive' package, developed in VB, provides powerful concise information via an LCD monitor to both machine operatives and engineering technicians. Clear informative menu systems allow navigation from front-end display screens through to engineering diagnostic panels with ease. In the competitive manufacturing market of today, the package provides many key benefits:
Programmable on-screen instruction including pictures
Multiple language text-based instruction
Comprehensive engineering diagnostic tools
Flexible process control
Simple efficient set-up for new products and variants
Data storage and traceability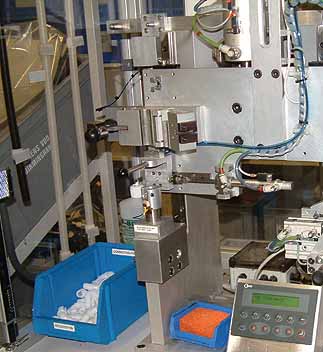 All of the features are provided as standard in a package that stands on par with the cost of a PLCbased control system.
As a major vision system integrator, ALPHR will undertake full evaluation trials and feasibility studies to provide customers with the highest level of confidence when considering the introduction of automated vision inspection. A Partner System Integrator (PSI) for Cognex, the world's leading industrial vision company, ALPHR is able to provide turnkey solutions for single point inspection through to factory wide networks of vision systems including full integration and support. Preferred choice being Cognex, ALPHR is also experienced with many other quality vision systems on the market and will conduct evaluations and integrate where a client's requirement exists.
Process automation comes in many forms, at one end of the scale a simple mechanical jig may be all that is needed to ensure two parts are correctly assembled. Compare this with multiple station automatic assembly and test lines or cells, complete with six axis robots for parts handling, automatic vision inspection, functional testing and computerised control and data collection. ALPHR is able to provide a tailored solution to individual and specific requirements. Invariably the best solution will meet with the specific requirements without being over engineered, will not be 'off the shelf best fit' but specific to the task in hand. To achieve this, ALPHR has a strong team of engineers ready and willing to listen to the requirements, add the experience gained in other similar applications and provide a comprehensive solution tailored to suit customers' needs. Projects large or small are equally important to the client and will receive the engineering excellence and attention to detail that they deserve. Long-term relationships with partner clients allow ALPHR to develop an understanding of needs and desires within an organisation.
ALPHR's strategic plan and goal is to continue developing innovative solutions to meet with customers' needs and the ever-increasing demands of the manufacturing sector. As an equipment and solution provider, shared knowledge and working together will produce mutually beneficial results.
ALPHR Technology Ltd
Products: Production line assembly test and inspection equipment
Sites: Hertfordshire, UK
Employees: Over 25
www.alphrtechnology.co.uk