Displaying quality
arken P-O-P has established itself as a reliable creative manufacturer, offering a full range of services to its clients, including the design, construction, and installation of point of purchase displays
The next time you stop before a display in a frequently-visited drugstore or electronics outlet, bear in mind that it is fairly likely to be arken to thank for the usability of these installations. Based in the market town of Newmarket, in Suffolk, the company blends creativity and manufacturing to deliver point of purchase displays, as well as graphic display products, such as light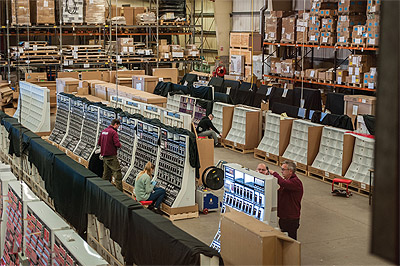 boxes and poster frames, to the whole of the UK and Europe.
Following steady growth over the past years, arken hit the £20 million mark in turnover in 2017."Our growth is mainly down to the rise in the cosmetics sector that has been evident in the last three years, and we have achieved success mainly working with different brands, rather than specific retailers," the company's Business Development Director, Kristian Munt begins.
"Last year was dominated by the continuous work we were doing for our existing customers, but also by the significant investments in machinery we made," he reflects."We bought a new flatbed digital printer, which allows us to print directly onto substrates up to 50mm thick.Together with this, we invested in a new plotter that gives us the capability of cutting out graphics at high speed to keep up with the demands of the manufacturing side of the business."
Kristian describes arken as "creative-led manufacturers", and it is precisely this combination of having both arms of the business under one roof, that makes the company stand out from the crowd."Having manufacturing onsite enables our creative team to work closely with the development team. Everything we design, we can then build, and this is our USP (unique selling point).We try to continually push innovations and our development team is always looking to evolve and stay creatively strong," Kristian explains.
Being an all-round provider allows the business to take on tasks across the whole spectrum of the service line. arken takes care of every step of the creation and the eventual distribution of its point of purchase displays. It runs initial retail audits, devises concept designs, and then manufactures, delivers, and installs its products in-store, to offer an efficient and holistic customer experience to its clients.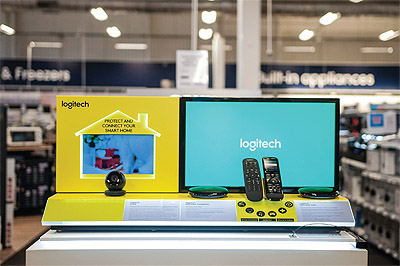 Not to be overlooked is another key strength that has helped arken become a sought-after business partner."We are incredibly flexible here, as we can easily adapt to fast turnaround, complicated projects, which we certainly come across in the consumer electronics sector," Kristian maintains."We are able to manage projects from large scale right down to small and very detailed ones. Our flexibility helps us deal with the time constraints we face, because all of these tasks require us to work quickly.
"We produced some excellent creative work within the Computer Consumables sector in 2017, comparable even to London design agencies," Kristian reports, going on to shed some light on the work arken has been doing for its latest big customer,Yamaha."Last year,Yamaha launched a new sound bar called YAS-107 that can fit in front of a TV set, or on a shelf.The product is being offered in Currys PC World, and we initially designed and manufactured 50 units, but as interest grew, we are currently producing 50 more units for further implementation into Currys. In addition to this, we are holding talks with Yamaha's European head office to roll out these units to a further 800 outlets."
The high standard arken has maintained in its work, has inevitably led to its recognition by the retail marketing sector. For years on end, the company has been a regular winner at the POPAI UK and Ireland Awards, and in 2017, it recorded its best-ever performance, picking up a total of seven awards, more than any other nominee."We won three Golds, mainly in the cosmetics and consumer electronics sectors," Kristian announces proudly.The job arken did for Intel Corporation and Logitech was duly praised at the awards ceremony, but it was its partnership with Superdrug that resulted in it winning the prestigious 'Display of the Year – Permanent' award, undoubtedly the highlight of that remarkable evening for the company. Collecting POPAI awards seems to have become a routine for the business, with its latest accolades rounding off to 70 the number of prizes the company has received in the last 13 years, an astonishing amount that serves as yet more proof of arken's dominance in the industry.
Already well into 2018, Kristian shares his expectations for the rest of the year:"I think it is going to be a year of stability. Our focus is to maintain our service levels, and we are certainly keen on bringing in new business that will allow us to continue our growth.We are quite diverse, working in a range of sectors, such as cosmetics, consumer electronics, automotive, and FMCG, so we hope that our success in these industries will attract brands from other sectors, too," he concludes.
arken P-O-P
Products: Point of purchase displays and poster displays