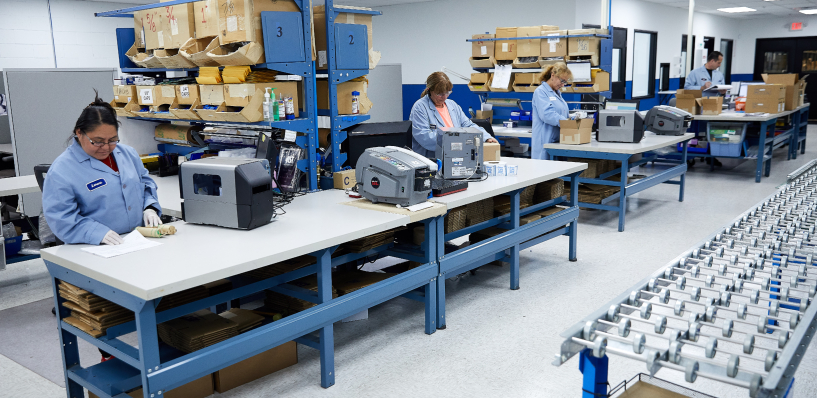 What would the manufacturing industry be without bearings? The sheer number of products and applications that rely on bearings is staggering, and selecting the right product can mean the difference between a humming, successful operation or complete application failure. Those are high stakes for these little parts, and AST Bearings understands this need well – they have built their operation to be a one-stop-shop for all bearing needs. But AST is more than just a supplier – it backs up those products with added value services that make its customers' jobs easier and ensure that those countless applications continue running smoothly.
In fact, the Parsippany, N.J.-based operation adopts a "Value Beyond the Part?" philosophy as its company tagline because AST Bearings is dedicated to being the complete bearing specialist for its clients. AST Bearings maintains an extensive inventory of superior-quality ball bearings, as well as roller bearings, thrust bearings, spherical plain bearings, bushings, rod ends, linear bearings, cost-effective mechanical sub-assemblies and more. The company is organized to ensure availability and just-in-time delivery to its customers across the United States and internationally, and its expertise in the marketplace services numerous industries and applications. As a result, AST specializes in providing its customers with bearing products and services for various situations, from simple on-the-shelf products to highly complex customized solutions.
"We differentiate ourselves by providing our customers a variety of value-added services," Engineering Manager Steven Sanchez says. "We have global sourcing capabilities for the bearings we market and we help our customers with their designs by using our engineering knowledge and expertise to come up with the perfect solution."
Established in 1963, AST Bearings is an ISO 9001:2015 certified company and leading supplier of precision bearings and bearing-related products to OEMs and distributors. The company serves a range of industries, including aerospace, medical, food processing, green energy, robotics, high tech and industrial products. In addition to its expansive New Jersey base, AST has a 14,000-square-foot facility in Yorba Linda, CA – with warehouses on both coasts product availability and on-time delivery is ensured.
"It's all about the value we bring to our customers," says Dan Fox, Vice President of Sales & Marketing. "By being able to offer such a broad product range as well as different precision and performance levels for various applications, we can serve a wide range of customers. Some customers require bearings for high-speed applications with special lubricants while others benefit from the full range of commodity bearings we offer."
World-Class Offering
AST Bearings is primarily a wholesale distribution company, and no other distributor can match the level and breadth of service which they offer. The company represents world-class bearing manufacturers and has partnered with high-quality factories to produce its own brand of bearings according to its strict technical specifications and quality assurance standards. Additionally, its strength is bolstered by its parent company, Motion Industries, which is one of the top industrial distributors in the world. Motion Industries is owned by Genuine Parts Company, the global distributor of NAPA automotive replacement parts, industrial replacement parts, office products and electrical materials. With this support, AST Bearings can offer its customers global sourcing and worldwide quality assurance personnel, who help to inspect factories, qualify manufacturing partners and perform design reviews.
"Our engineering services and global sourcing are part of our value-added package," says John Wallace, Vice President of Operations. "We offer cleaning and re-lubrication of bearings, custom bearing lubrication services and hundreds of popular lubricants on the market to choose from. This is such an important part of our business because bearings will not survive without lubrication.
"As a supplier of production parts, we also offer various inventory programs because our bearings go directly into OEM production lines. We control the flow of material for our customers, and no other distribution company offers as complete of a package as we do."
AST Bearings also enforces a rigorous quality control program to ensure each bearing meets the highest quality standard. To exceed application requirements and their customers' needs, AST's Quality Assurance department is equipped with the cutting edge dimensional measuring equipment as well as high-precision bearing noise testers, which are annually inspected and calibrated for accuracy.
The company is committed to providing its customers with zero-defect bearings and maintains a state-of-the-art clean room where lubrication service work is performed at Class 100 [ISO Class 5] laminar flow work benches. Dedicated equipment such as digital lubrication & weighing systems ensure that the correct, precise amount of grease or oil is applied to each bearing that AST lubricates.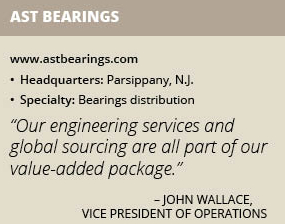 Further, employees have online access to quality manuals, procedures, work instructions, required forms, standards and other customer information such as communications, drawings and critical specifications. For its aerospace customers, AST maintains a quality management system that can produce AS9102 First Article Inspection reports. In addition to a quality management system that's certified to the latest ISO 9001:2015 standard, AST sets very strict requirements for its factory suppliers to assure that its goods and services are outstanding in quality level, can satisfy delivery commitments and keep overall costs competitive. "Upon request, we can provide our customers with various quality certifications," says Alan Van Natta, Quality Manager of AST Bearings. "We often include with shipments RoHS certificates (Restriction of Hazardous Substances). In some cases, our customers require REACH or WEEE certificates, and we can provide those too." [REACH: Registration, Evaluation, Authorization and restriction of Chemical substances; WEEE: Waste Electrical and Electronic Equipment Directive].
"Engineering is one of our core competencies." Wallace says. "Compared to other companies which might only have one technical person on staff, we have an entire Engineering Department. AST makes significant investments in capital equipment so we can perform bearing noise & vibration testing, systems analysis, torque testing and dimensional verification with 3D CAD modelling. We can also provide comprehensive statistical data output using special bearing analysis software to calculate stresses, loading, service life, friction, stiffness and more."
This level of offering is what really distinguishes AST in the industry, Fox notes. "Some of our competitors can offer a few value-added services and some do bearing re-lubrication, but none of them have the full value-added package that we do. Additionally, 50 percent of our Inside Sales team have mechanical engineering degrees, so that enhances the level of service we can provide."
The Extra Effort
AST Bearings continuously works with its customers to ensure they deliver beyond expectations, while also constantly improving its offerings. The company's sales team works closely with customers. This can be a simple process when a customer needs a common bearing for a straightforward application, but AST is frequently tasked with developing brand new designs. In these cases, the salesperson needs to quickly determine if the client requires an engineered solution. Additionally, the AST Sales team works with the customer to determine if other value-added services may be beneficial, including inventory management or a special delivery schedule.
"We take a very consultative approach by asking a lot of questions," Sanchez says. "We want to know all of the different inputs required to select a final bearing type, specifications and part number. What's important for the application? What are the types and magnitudes of the loading? What are the operational speeds? What is the duty cycle? What is the required design life? There is a lot of collective experience on the AST Engineering side and we've helped numerous customers with their applications throughout the years. After the calculation and drawing reviews, we end up with a part number or a set of part numbers that we're confident will satisfy the customer's needs.
"Customers will see the value and appreciate the extra effort," he continues. "We know that they can buy commodity bearings anywhere, but it's the extra things we do that give us our competitive edge in the market. We create long-term relationships with customers because often these inquiries will develop into repeat business. We then can work with them on monthly release schedules and next-generation designs."
The company recently implemented a major improvement, relocating itsNew Jersey HQ into a new, nearby facility earlier this year, an upgrade from its previous, 30-year-old home. The new location offers a more efficient layout for processing and warehousing, along with a new ISO Class 7 clean room to lubricate and package precision bearings. AST has also invested in a new vapor degreasing system to clean bearings, and its latest technology is automated and programmable so it yields repeatable results. This system supplements the existing equipment to double the overall cleaning capacity.
This focus on organizing its operations to best serve customers will continue to drive AST Bearings forward. "Our reputation in the industry and our core business is based on repeat customers," Wallace says. "Customers rate us monthly, quarterly, yearly, and we've been the recipient of numerous awards from customers because of our ability to perform and satisfy them across diverse markets. We rise to that challenge.
"We really excel when a customer needs a variety of bearing types for their products," he adds. "They may need 60 SKUs, and 30 of them are different ball bearings while some are roller bearings. But then they see our ability to manage the supply chain, look at their forecast, respond to their technical requirements and integrate their desired cost targets, all while sourcing the product, ensuring the product is what they need and providing engineering back up. It's about doing what we can to serve our customers better."
Sidebar –- Ongoing Value
In an effort to deliver on its mission of "Value Beyond the Part?," AST Bearings provides a wide range of services, as well as exceptional product quality, selection and availability. The company's value-added services include:
Design Engineering
Applications Engineering
Bearing Lubrication and Re-Lubrication
Failure Analysis
One-Stop Shopping
Global Sourcing Capabilities
Just-In-Time Delivery
Rapid Availability
Dock-to-Stock
Flexible Credit
Responsive Customer Service
Inventory Management Programs
Enterprise Data Integration (EDI)
Certified Quality Assurance Programs
Custom Packaging