Atlas Tube's dedication to lean manufacturing, employee training and cutting-edge technology has helped it thrive in the hollow structural sections market. The structural tube manufacturer is the outcome of combining five different companies through mergers and acquisitions. The result is a company with the most complete offering in the industry and talented employees, it says.
"We have been able to assemble the best and the brightest from all these entities into a highly effective team," President David Seeger asserts. "We have combined that with innovative incentive programs where every employee participates and it makes them highly interactive."
Seeger explains that employees are paid a base wage and everything above the baseline results to a payout that ranges between $5 to $15 an hour. It's a win-win situation, he adds. "When our employees achieve high [production] rates, the company benefits and results into us being a low-cost producer," Seeger continues.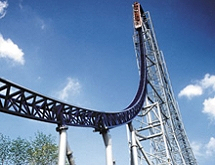 For this reason, Atlas Tube is known to have the shortest cycle times in the industry. The average cycle time for structural tubing is between four to six weeks, while Atlas Tube averages a two-week cycle. "It allows our customers to carry less inventory," Seeger states. "We can also react to the industry very quickly because of our short cycle."
No specific factor distinguishes Atlas Tube, Seeger notes. "A combination of things sets us apart," he says. "First, we incorporate a lean manufacturing process that utilizes the traditional Six Sigma concept for continuous improvement. We apply that from changeovers to managing inventory and combine that with a substantial capital investment. That makes a powerful combination and a major differential.
"Second, we have the broadest and largest size range in the industry," Seeger adds. "We make one- to 16-inch square [tubes] providing a one-stop shop for our customers."
Atlas Tube also enjoys great partnerships, such as its relationship with Commonwealth Oil, a distributor of high-performance metalworking and specialty fluids. It started working with Commonwealth Oil in May 2009 at the recommendation of its sister plant in Harrow, which was using Commonwealth's mill coolant.
"[President] Fred Herdman visited our plant and requested the opportunity to quote on coolant," Seeger says. "Fred's pricing was very impressive and we were looking for a change on the new SMS mill at that time. The Commonwealth coolant performed exactly as Fred had specified. We made the permanent change to Commonwealth on the SMS mill and are now using their coolant on the Kusakabe mill, as well. Fred and his team have worked hard to satisfy our needs and requests at Atlas Tube Chicago, not only with a quality product, but also with service and pricing."
Developing New Products
Atlas Tube carries tubes that include copper bearing, high-strength low alloy, roll-over protective structure and weathering steels, as well as other pipe products and pipe piling. The company recently introduced two new products – Eco-Pole and Epox Z Kote. Eco-Pole is a steel pole used as a substitute for wooden utility poles. The pole is 100 percent recyclable as opposed to wooden poles. In addition, it has 40 percent longer life than traditional wood.
Epox Z Kote is a powder-primed tubing that produces a high-performance, tough epoxy powder coat primer, the company says. "This new epoxy powder primer is less than one half millimeter in thickness and accepts laser cutting and welding operations. One of the unique benefits of Epox Z Kote tubing is the ability to weld directly through the coating without any special preparation that results in minimal weld spatter that can be simply brushed off."
In addition, Epox Z Kote is delivered ready to use, the company says. "It is compatible with all the epoxy paints that our customers use," Seeger adds. "The biggest advantage is that the product requires no surface preparation resulting in substantial savings to our customers."
Managing the Supply Chain
One of Atlas Tube's advantages over its competitors is its ability to manage the supply chain all the way down to the end-user, Seeger stresses. The company does this through its vendor managed inventory program (VMI), which it developed in-house about eight years ago.
"It's an advanced forecasting method that takes the data provided by our customers and works it into our production plan," Seeger ex­plains. "It also provides a safety buffer of inventory by combining single customer sales variability with a large pool of other customers. Managing that variability is key in lowering the amount of inventory carried. Reducing inventory at both the customer and mill is extremely beneficial, especially in volatile times like this when inventory values can take tremendous swings. Managing inventory levels is a critical component of our business offering."
Over time, Atlas Tube refined the program so its computer can link up with the customers' through electronic data interchange (EDI), creating a seamless transaction freeing up time and lowering costs even further.
Swinging with Changes
The major challenge today is trying to manage big price swings, Seeger says, noting steel prices went from $1,200 per ton to $350 per ton in the past year. "That's a tremendous swing," he states. "We managed through our inventory programs both with suppliers and customers to mitigate the effects on our businesses."
To adapt to the current economy, Atlas Tube had to decrease its work force. "To idle our capacity and to let people go was an extremely hard decision but we have a responsibility to the long-term health of our company and the industry," Seeger states.
However, Seeger says the industry is slowly recovering. Because the bulk of its projects are non-residential, Atlas Tube still has a strong backlog of work. In fact, the company shipped more than a million tons of steel in 2008, which equated to just more than $1 billion in sales. Seeger explains that if the infrastructure money continues to come in, the company will be in better position in the near future. A Learning Experience
Atlas Tube is a subsidiary of the John Maneely Corp., which is owned by the Carlyle Group, a Washington, D.C.-based private equity firm. "They built a platform to continue industry consolidation," Seeger says. "We are in a strong position of leadership and will continue to look for opportunities to consolidate the industry further."
He notes there is light in the murky economic situation. "A positive thing that comes out of this difficult environment is that [you learn how to] stay lean, be innovative and take costs out," he says. "That's been engrained in our company, and it's a culture that we will utilize going forward. We have positioned ourselves to not only be successful in this environment, but to be a leader in the manufacturing game [worldwide]."
?