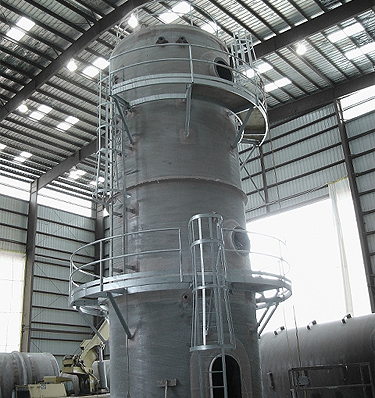 Augusta Fiberglass' ability to meet its customers' needs, no matter how large or complicated, makes it a leader in the fiberglass fabrication industry. "Our attention to safety, world-class engineering, modern fabrication techniques and employee relations set us apart," the Blackville, S.C.-based manufacturer says.
One of Augusta Fiberglass' recent clients experienced Augusta Fiberglass' capabilities first-hand when it contracted the company to demolish and replace large diameter metal ducts with fiberglass in a Florida power plant.
Augusta Fiberglass considered fabricating the ducts – which needed to be 16 to 20 feet in diameter – at the customer's facility, but found that idea infeasible, the company says.
Instead, the company and its sister company B&D Plastics produced duct sections, elbows and expansion joints at their facilities in Blackville and Ocean Springs, Miss. Augusta Fiberglass transported the sections to a dock at the B&D facility and used ocean-going barges to ship the ducts, elbows and joints across the Gulf of Mexico from Mississippi to Florida.
Augusta Fiberglass also supervised the complicated work of a subcontractor that removed the existing metal ducts and saddles. The replacement steel saddles that would be used to support the new Fiberglass duct were designed by Augusta Fiberglass engineers using finite element analysis and other advanced engineering techniques. These saddles were fabricated by one of the metal fabrication vendors who regularly assist Augusta Fiberglass.
"We brought our full engineering skills into play including calculations using finite element analysis," the company says of its work on the project. "Our quality control officers were on hand throughout the project to ensure that every section, every elbow and every transition joint met each and every standard."
Innovation and Service
As the project described suggests, Augusta Fiberglass specializes in making custom fiberglass-reinforced plastic (FRP) vessels, duct, stacks and other equipment. Those custom products are used in "virtually every industrial, manufacturing and environmental setting," the company says. Its customers include chlorine manufacturers, power companies, environmental facilities, agricultural facilities, pharmaceutical plants, beverage companies, the semiconductor industry, mining companies and all other places where liquids, especially corrosive, caustic and acidic chemicals are present.
"Augusta Fiberglass, B&D Plastics and most importantly, our customers expect our products to have been designed, engineered and fabricated to the highest standards, inspected by qualified quality control personnel, built to their specifications safely and delivered on time," company Founder and CEO John W Boyd says..
Innovation has been one of Augusta Fiberglass' hallmarks since Boyd founded the company in 1974. The company's early innovations include designing and fabricating one of the first fiberglass chlorination towers in 1987. Since then, Boyd has patented several pieces of complex equipment.
Augusta Fiberglass reached a major milestone in 1995 when it gained American Society of Mechanical Engineers (ASME) RTP-1 accreditation to design, fabricate and code stamp FRP pressure vessels. In 2000, it became the first fabricator to code stamp 20-foot diameter fiberglass vessels. The following year, it became one of the first companies given ASME accreditation to field fabricate and stamp vessels anywhere in the world.
In 2009, Augusta Fiberglass added dual laminate fabrication capabilities when it acquired B&D Plastics. Boyd, in conjunction with B&D Plastics' COO Tom Reeves, guided that company to RTP-1 accreditation for both fiberglass and dual laminate products.
"Augusta Fiberglass is at the top of the fiberglass fabrication industry with the manufacturing capacity to meet every customer's custom needs regardless of the vessel or equipment involved, and regardless of the service," the company says. "B&D Plastics is also at the top of the dual laminate industry with the capability of supplying dual laminate vessels of all sizes and shapes to handle chemicals for which fiberglass is not suited."
Throughout its history, the company has fabricated thousands of large and small-diameter tanks and vessels including, seven of the world's largest fiberglass vessels, which were 119-foot-diameter, 60-plus-foot-tall jet bubbler reactors for the power industries. In 2007, Augusta Fiberglass completed the largest FRP column – which was 38 feet in diameter and 750 feet tall – in North America. In 2011, B&D Plastics created the largest dual laminate vessel in the world.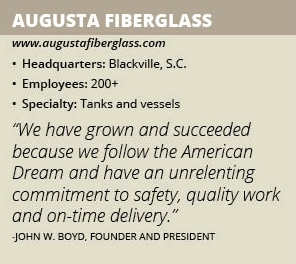 The power industry also looked to Augusta Fiberglass' engineering and attention to detail in fabrication and its ability to produce quality stack liners. The partnership between the power companies and AFC resulted in the field production of more than 11 miles of stack liners for coal-fired power plants.
Augusta Fiberglass is a pioneer in the economical delivery of large-diameter tanks to job sites across the United States and into Canada, Mexico and beyond through the oblation process. To oblate a tank, the large diameter shells are pulled together into an oblong shape, dramatically reducing their shipping diameter. When delivered, the tension is released and the tanks are returned to their pre-oblation manufactured size. Tops, bottoms, nozzles and appurtenances are then added at the customer's job site.
For projects that require large diameter vessels and duct that cannot be oblated, Augusta sets up complete remote fabrication units complete with buildings, mandrels and all of the equipment needed to complete the project and assemble all elements at the customer's site. This field fabrication, field assembly capability with RTP-1 Code Stamp authorization makes Augusta Fiberglass virtually unique in the industry.
Another unique attribute of Augusta Fiberglass/B&D Plastics offerings are the field service units that can be and frequently are dispatched within hours to any part of the world to inspect and repair fiberglass or dual laminate vessels. This is a critical service in emergency situations and the crews who respond by company airplane if necessary are experienced and skilled and have the necessary safety equipment readily at hand for confined space or other potentially hazardous conditions.
Master Workmanship
The company employs more than 200 skilled workers and supervisors at its 200-acre headquarters in Blackville. B&D Plastics and the Augusta Fiberglass team "AFC South" have more than 75 additional employees in Ocean Springs, Miss.
The staff includes nine experienced engineers capable of complex finite element analysis and complex computer and manual calculations, as well as five experienced drafters who use the AutoCad and Solid Works 3-D software platforms.
Engineering estimators review the specifications of each new project received by the company and design the fiberglass products needed using CAD software and manual calculations.
Upon award, the project is turned over to drafters who produce drawings. The drawing are reviewed and approved by a senior project manager, who also performs calculations to confirm the design, the company says.
After the customer approves the drawings, the company's production team then takes control of the project. Augusta Fiberglass craftsmen have 39 mandrels ranging from 2 inches to 16 feet in diameter and 15 large tank mandrels ranging from 16 feet to 52 feet in diameter at their disposal.
Other equipment pioneered by Augusta Fiberglass allows the fabrication of equipment that reaches to 65-feet in diameter. Augusta retains the ability and equipment to repeat its fabrication of extraordinarily large vessels. All of the work, including the assembly of mandrels, use of chopper guns, application of matting and the operation of computer-assisted winders is carried out by experienced craftsmen. RTP-1 certified workers are used for the RTP-1 stamped projects.
Because each project has a specific laminating sequence which must be followed. The laminators and computer gun operators must and do follow a strict plan for applying the corrosion veil, roving, resin and glass. The laminating process is closely monitored by supervisory and quality control personnel.
When the shells are completed, they are removed from the mandrels and taken to a crew that joins tops and bottoms to the shells and adds nozzles, manways and other appurtenances. Throughout the assembly process the vessel is inspected and when completed most undergo hydro testing.
The company constantly reviews its quality and other processes. "Our supervisors are hands-on, and hold daily tool box meetings to discuss safety and workmanship," it says. "Engineers meet almost hourly to review calculations and discuss designs, and designs are reviewed numerous times throughout the estimating, design and drafting process."
Following the Dream
Augusta Fiberglass continues to seek opportunities to improve its operation. Within the past two years, the company has expanded its South Carolina facility as well as the B&D Plastics site in Mississippi.
Last year, B&D Plastics last year expanded its headquarters and both Augusta Fiberglass and B&D Plastics acquired new state-of-the-art pipe fabrication equipment.
Augusta Fiberglass is currently adding another large building to its Blackville campus capable of housing large-diameter mandrels, fabrication equipment and cranes. The expansion will add at least 12 more jobs to the local economy. A new straddle crane is being employed to dramatically speed the movement of finished shells and vessels during and after the fabrication process.
Augusta Fiberglass is working with Garrett Industrial of Austin, Texas, as a manufacturing representative to expand its reach west of the Mississippi River into the Texas, Oklahoma and other markets. Imler Equipment in Pennsylvania is currently assisting in the Maryland, Delaware, Eastern Pennsylvania and Southern New Jersey marketing area as well. Augusta Fiberglass is also negotiating with fiberglass companies in India and Europe to provide technical and engineering assistance to Indian and European firms on major capital projects.
Augusta Fiberglass takes pride in its growth and capabilities in the United States and beyond. "We have grown and succeeded because we follow the American Dream and have an unrelenting commitment to safety, quality work and on-time delivery," John Boyd says, calling to mind the American Flags that greet visitors when they arrive at either the Augusta Fiberglass or B&D Plastics site.