The lubrication specialists
Aztec Oils is one of the UK's leading specialists in high performance lubricant manufacture and distribution
As company Managing Director Mark Lord began by explaining, the company's initial offering evolved quickly to meet the needs of customers: "We started trading in packaged lubricants in 1998 and soon realised there was a need for a bulk storage facility for the products. Soon after the bulk storage was created, we then expanded into blending, which also required a laterally run laboratory function for testing of blended products. We now manufacture approximately 95 per cent of the products we sell from our own facility in Bolsover and we are one of the largest independent oil manufacturers in the UK."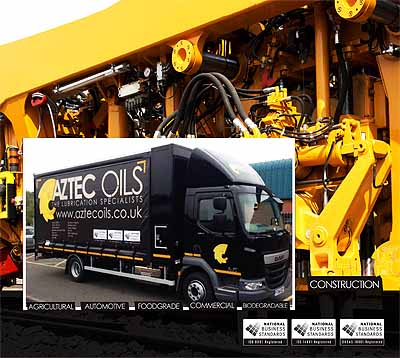 David Ashard, Operations Director, added some further details about the capabilities of Aztec's Bolsover site: "This facility contains several key areas, three production, one blending, one laboratory, two warehouses, one engineering and our admin block," he said. "We are currently working towards a more lean approach to manufacturing and have installedthe use of work instructions and encourage our team leaders to record and communicate methods of ensuring our continual improvement. The management team are also standardising our entire procedure portfolio ready to move into the next phase of our lean journey.
"As part of our determination to form a solid foundation for our growth we invested heavily into achieving ISO accreditation for our business. We have now been running to ISO 9001, 14001 & 18001 standards for several years and are confident that our procedures and processes are robust enough to support our future development.
"ISO accreditation has become almost a standard requirement for our customers and holding and working to these standards gives our customers the confidence that the high quality products they purchase are produced in a safe and environmentally conscious setting."
The production facility receives over half a million pounds of investment each year in order to maintain its state-of-the-art approach, and furthermore, the company's laboratory has recently received a £75,000 facelift. This investment has created, on average, ten new positions per annum at its Bolsover site. Mark pointed out the benefits the lab brings to Aztec: "Our laboratory quality checks our entire product range and also takes on a developmental role for customer specific requests, normally within the industrial sector. We are also currently installing the processes required to test products that customers send us for profiling." He continued: "Investing in our production, laboratory, warehousing, site and staff has allowed us to keep up with the high demand for our products we have experienced over the last several years. We have doubled our operation and installed a more robust manufacturing and admin software suite giving our systems the flexibility to grow alongside the rest of the operation."
David added: "During the last 12 months all drivers have completed driver related NVQs, and the production and warehouse teams have also completed NVQs. Staff training is very important to us and we have seen some good results from these courses, the general understanding of the operation and their individual input to the success of the company has increased with the knowledge gained. The Operations Manager has also started an NVQ/ QFC level five leadership and management course.
"As a company, we find investing in our team instrumental in the continued success of our business. Several of our key operational employees have progressed through the company and brought along their knowledge into their new roles, and we fully support all aspects of developing the skills our team require to continue into new roles within the company."
Further investments at Aztec include new software, social media accounts, and a new website, which is under development. "We have invested in a sophisticated software package, which helps with forecasting, planning and stock usage," added David. "We are also increasing our tank farm storage capability, as well as purchasing new production filling machines and blending tanks. Finally we are investing in food grade blending equipment, as we are creating a new product line for 2015."
The new product David referred to is Aztec's own range of food grade oils. "We already offered one of the largest ranges of food grade lubricants, greases and aerosols in the UK market place, and so the development of our own range of food grade oils was the natural next stage," highlighted David. "We were delighted to have met the tough requirementsto become NSF registered and achieving this certification provides our customers with the assurance that these products have been produced in compliance with the relevant regulations."
As Aztec Oils moves into 2015, it has more exciting plans in the pipeline, including a major acquisition. Mark explained: "The purchase of Oiline Ltd will strengthen our position in the West Midlands giving us better connections and improving our product expertise in the metalworking sector. Oiline have a long history of trading in the West Midlands and have organically grown a significant database of customers who have confidence in their products and quality, which is something Aztec can continue to supply in the future."
Looking longer term, Mark and David havemore plans for expansion and investment, with the vision of a total redevelopment of the Bolsover site and the creation of more jobs "Over the next five years we will continue to grow and develop our operation and set the foundation for a solid future in Bolsover for the company and the staff equally," stated David, adding: "This vision includes the purchase of rented land and surrounding five acres to develop our production and warehousing operation, and further working with our newdepot in Birmingham in April this year."
It is clear from talking to Mark and David at Aztec Oils that the company's success is due to not only hard work and innovation, but also a willingness to invest and an acknowledgementof the important role played by a hard working and well trained team of staff. This latter point was recognised at the Annual Derbyshire Times Business Awards in 2014 when Aztec was nominated for employer of the Year: "We were delighted at reaching the finals of the awards," said Mark. "All at Aztec are a vital part of our current and continued success and we recognise the importance of this in our everyday operations."
Products: High performance lubricants
Sites: Two in the UK
Employees: 57 over two sites