Preparing today to be ready for tomorrow
How BAE Systems works with suppliers to prepare for manufacturing ramp-up on the world's largest defence programme, the F-35 Lightning II
BAE Systems provides some of the world's most advanced defence, aerospace and civil aerospace solutions, through innovative technologies around the world. The company also provides a selection of defence information systems, networks and delivery platforms for a wide range of programmes that are principally for military uses, BAE Systems implements advanced manufacturing techniques to produce some of the world's most effective military equipment.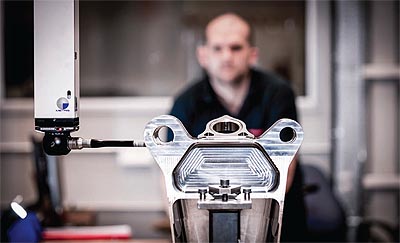 BAE Systems is a key partner in the world's largest defence contract, the F-35. The fifth generation combat aircraft is built by a team led by US aerospace firm, Lockheed Martin, supported by principal partners Northrop Grumman and BAE Systems. BAE Systems is contracted to a ten per cent work share for each stage of the aircraft's life-cycle development, including production, sustainment and future modernisation, excluding propulsion, and plays a major role in the programme across the many partner nations.
When it reaches peak production, the programme will be worth tens of millions of pounds to UK industry alone, with an estimated 25,000 UK jobs sustained across more than 500 companies in the supply chain. At its advanced manufacturing hubs in Samlesbury, Lancashire, and Adelaide, Australia, BAE Systems leads the production of the aft fuselage and vertical and horizontal tails of every F-35, with more than 3000 already recognised as the Programme of Record on order from customers across the globe, with 200 already currently flying training pilots.
In 2016, the Samlesbury site produced 63 aft fuselages and will increase this to 92 this year with production peaking at a rate of around one per day. This presents a challenge to the company and its supply chain within the United Kingdom and Europe, which includes Martin-Baker, the world leader of ejection seats, Magellan Aerospace Corporation in the UK, a Canadian manufacturer of aerospace systems and components, and RLC Group, the world class provider of components and services to the industry.
Given the magnitude of supporting a supply chain for such a major manufacturing undertaking, BAE Systems manages this workload between its shared airframe supply chain, and its F-35 major equipment supply chain.
Steve Vandersteen, Procurement Director for the company's airframe supply chain, heads a part of the business that looks after suppliers for all of its products including the F-35, Eurofighter Typhoon and Hawk, the advanced jet trainer used by air forces across the globe. He said: "One of the biggest challenges we have is that the aerospace industry in the UK is in a period of significant growth.
"The commercial aerospace market in particular is growing very fast, for example, the Airbus A320 single aisle range has grown from 30 aircraft nine years ago to 60 per month and is anticipated to grow further.
"For us, our commitments on F-35 are also increasing and in the next three years we expect to be producing up to 160 aircraft every year, so there is a challenge for us and for our supply chain. Our suppliers are on plan to achieve this growth with capital investments in terms of new buildings, equipment and manufacturing capability, as well as more resources and enhanced skills. We work very closely with them to ensure we are ahead of the curve on all of these things."
The nature of the F-35 programme sees orders for aircraft placed in annual lot by lot procurement by its Joint Program Office, the branch of the US Government that runs the programme. These annual contracts provide a clear indication of the workload required by both BAE Systems and its supply chain, which totals more than 250 tier one companies for the F-35 programme alone.
Steve Vandersteen explains: "Within the boundaries of US contracting regulations we prefer long-term arrangements with our suppliers because we need them to perform at rate, meet highly competitive pricing, and think beyond the work we are doing today. We have a robust supply chain management process with a balanced scorecard approach to engage on progress and performance. Like others, we balance our reviews around delivery, quality and cost, but emphasis is also given to the importance of capability/technology enhancements, process control and capacity."
For Steve's counterpart, Paul Burns, F-35 Global Procurement & Supply Chain Director, whose role involves working alongside suppliers of major equipment and international industrial participation which goes into the aircraft, the challenge is similar. He explained: "If you think about some of the systems on the aircraft such as an ejection seat, by the time we've got through the development phase it's difficult to make changes as that stage alone takes between five and ten years to complete and millions of dollars to requalify, so supplier choice for future long-term relationships is key. Production can take anything between ten to 25 years to close and then the aircraft has to be sustained and kept flying for the next 20 or 30 years." For this reason, it is imperative that suppliers are capable of meeting all BAE Systems requirements to keep the aircraft flying until it is eventually decommissioned.
Paul added the company is confident that the rate ready process is reviewing issues with the future rates in the second, third and lower supply tiers, and already has a supply chain to deliver its commitments to the F-35 programme for 2017. He said: "When we decided to build 92 units in 2017, we already had the capable supply chain in place to meet rate 100 capability, which was installed nine-to-12 months earlier.
"We know that the investments our suppliers are making and agreed milestones to removecritical capacity constraints are not just for production but for any spare and repairs volumes and this takes time and money and that is why we work with a long-term view."
But, investment for BAE Systems is not merely in manufacturing plant and equipment – the company has made significant investments to ensure it has the right skills it requires for the future. In Samlesbury, Lancashire, the company has opened a £15.6m Academy for Skills & Knowledge, equipped with the latest manufacturing technology including robotics, additive and carbon composite manufacturing.
Whereas BAE Systems' investment in its apprenticeship programme has seen it consistently recruiting for its Military Air & Information business, other advanced engineering and manufacturing firms have only now started to focus on vocational training. In September 2016, the business recruited 180 apprentices, including 50 in higher and degree apprenticeships. As part of its training offer, the company has trained apprentices that have gone directly into its supply chain businesses, including to firms such as Magellan Aerospace, and to other parts of the industry in the North West. It believes its investment in developing the Academy will enable it to continue recruiting for its own workforce and supporting its regional supply chain.
Steve Vandersteen said: "Skill is a real issue across the supply chain as well. We have been facing a demographic risk for many years, as many of our traditional manufacturing and engineering specialists have been getting older.
"Suppliers have started to wake up to this and we are now seeing them address this challenge with the recruitment and training of apprentices and young people. On a national scale we are major sponsors of both SC21 and the Sharing in Growth programmes, both designed for our suppliers to be beneficiaries of Government funded initiatives and gaining access to industry experts to help them move the dial in their competitiveness and export growth ambitions."
Also nationally, BAE Systems is involved in People Through Productivity, a Governmentbacked scheme aimed at boosting productivity levels across the UK economy. It has helped shape the programme that is being piloted with 24 companies from across the North West in partnership with Lancaster University Management School. Speaking at its launch of the initiative, Nigel Whitehead, Managing Director for BAE Systems' UK businesses, said: "I believe that a business is only as strong as its weakest link in its supply chain.
"I think these projects are great examples of organisations stepping up and taking responsibility for using their existing networks to boost productivity for all, across a number of industries. Giving employers the opportunity to develop their own solutions is crucial, as we believe the people who experience these skills deficiencies first hand are the best people to develop the solutions to workplace problems."
Whether it is meeting the demand of the ramp-up in production for the F-35 programme or developing its future military aircraft capabilities, BAE Systems recognises the need to support and nurture its supply chain. Its commitment is evident today in its package of support, and has measures in place to ensure this remains the case in the future.
BAE Systems
Services: Provides technologies to some of the world's most advanced aerospace and security systems