Cool under pressure
The fusion of ACC Technology with the experience of Wanbao Group has created a company that is aiming to reach new targets for high efficiency household compressors
Established in 2002 with the vision of becoming a global leader in the manufacturing of components for household and industrial appliances, Appliances Components Companies (ACC) evolved alongside the household appliances market and today it focuses on the domestic refrigeration business. Committed to strengthening its leadership in the European market and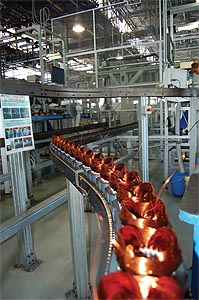 consolidating its position in the industry across the world, ACC focuses on delivering high quality, innovative and reliable services and solutions to its customers.
Having caught the attention of Wanbao Group, a long-standing compressor manufacturer in China with two production bases in Guangzhou and Qingdao and a total annual production capacity of over 20 million units, ACC was acquired in the final quarter of 2014. Providing a little information on Wanbao Group, Mr. Stefano Eller, Sales Director at Italia Wanbao-ACC, comments: "The Wanbao Group is a cutting-edge industrial group dealing with refrigeration technology that was acknowledged as one of the top 500 Chinese companies. The group includes more than 30 manufacturing firms that produce different products such as compressors for domestic refrigeration, compressors for commercial refrigeration, heat pumps and air conditioners. The Wanbao Group has a registered capital of 884 million RMB, which equals approximately 1.3 billion euros."
Renamed Italia Wanbao-ACC, the newly formed organisation has endured challenges during its first two years in operation, as Stefano notes: "These were difficult months as the European market has been very weak due to issues such as the increasing number of competitors from LC countries; this, in turn, has resulted in a dramatic fall in prices. Additionally, some customers were reluctant to start business with the new organisations and we ourselves, in front of the first investment of our group in Europe, have accused some delay in the management of the most critical situations."
He continues: "Despite these challenges, we have confirmed, in facts and with the industrial behaviour, the strategic centrality of Italian production in our Group, under which, we have become a global player competing for leadership with giants such as Embraco and Jiaxipera. The main markets are Europe as well as Turkey, Iran and Russia, as far as the European company is concerned. Furthermore, we are working with the mother company to expand this business into the North American market. As such, the business plan for 2017-2020, which we presented to the Ministry of Economic Development, confirmed a total financial commitment for the rescue and recovery of the Mel compressor plant, which has been priced at approximately 50.7 million euros."
Within the contents of this plan, the group has requested joint commitment of all involved parts, from the workers and trade unions to local and political institutions. "We know that managing additional surplus of people will be painful, however we are committed to making the social impact the least onerous; this will thus assure the organisational and economic balance that is necessary to maintain safe facilities, with the greater part dedicated to their continued employment," explains Stefano.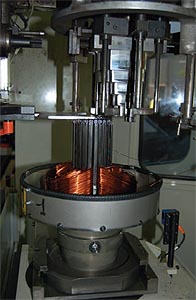 In preparation for the future, Wanbao Group has strengthened R&D functions for Italia Wanbao-ACC, boosting the number of technicians from seven to 16; it has also introduced cost-effective aluminum motors, with the same performance, on all of its models. "We have also launched a new version of our flagship, the Kappa compressor, and introduced a new variable speed compressor that boasts high performance; in the future this will become our main product and will be intended for high-end and high-tech refrigeration," highlights Stefano.
Looking ahead, the road looks paved with challenges and opportunities for the newly formed Italia Wanbao-ACC as it benefits from long-term expertise, financial strength and an ongoing focus on innovation against a turbulent European market. "With our 2017-2020 plan in place, which is as ambitious as it is realistic, we believe that the Mel plant will be called upon to retrieve a strong industrial mission: to become the most important production site in Europe for a large independent group in the field of compressors for domestic refrigeration by 2020," concludes Stefano.
Wanbao ACC Group Spa
Products: Manufacture compressors for household refrigeration appliances