The smooth process
With industry-leading, state-of-the-art equipment and long-term expertise as a progressive, problem-solving steel stockholding business, Barrett Steel Group is the go-to company for those seeking high quality, creative steel solutions
Celebrating 150 years in steel in 2016, Barrett Steel Group has grown both organically and through acquisition, from founder Henry Barrett operating as a one man company to it becoming the largest independent steel stockholder in the UK. Now six generations later and consisting of 44 companies that operate in 28 locations nationwide, Barrett Steel Group is proud of its success and aims to continue this trend by working with customers to deliver high quality products in a swift and efficient manner.
Discussing the group's operations is Tom Barrett, Director of Barrett Steel Group: "We buy large amounts of various sizes of steel direct from mills in the UK, Europe and all over the world, and have it on the shelf ready to distribute to our customers; these include companies constructing buildings, sheet metal workers, general fabricators or engineering companies. Any kind of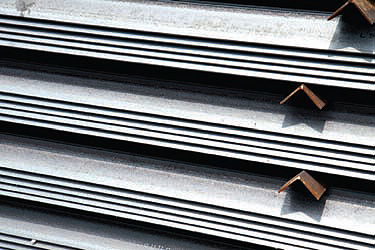 steel is ready for our customers in our facilities, however, on top of stocking and delivering steel to our clients, we also cut it to size ready for people to use and can also drill, shotblast and paint steel. We provide these services in a timely manner, which results in short lead times and products that are ready when our customers need them."
The 1030 strong group is split into four specialist divisions, engineering steel, general steels, energy products and tubes, and the company offers a one-stop-shop service to customers in cutting edge facilities that boast extensive stockholdings. Although all divisions are enjoying demand from the market, the general steel division, servicing in the main the construction sector, remains the core of Barrett Steel Group's business. The Engineering and Energy Divisions provide specialist materials and services across the UK and locations such as Europe, the US and the Middle East, holding a wide range of black and bright carbon, alloy and stainless products while also providing processing services such as forging, heat treatment, testing and machining. Throughout projects, the group maintains a close working relationship with clients and leading logistics partners alike to ensure products are exactly as required and delivered on time.
With more than 100,000 tonnes of general steel and complementary products held in stock across its country-wide network, the company is able to supply not only basic steel products, but also the highest quality finished components that are ready for use on-site or on the production line. Alongside this vast amount of stock, the company can save customers time and money by adding value at every stage, from the initial idea through to design, specification, production, processing and delivery – the latter of which is complemented by the group's own fast and reliable fleet of over 400 vehicles, which ensures fast delivery and optimum reliability.
"Because there is an expectation for next day deliveries we have to be dynamic in delivering high quality steel quickly. To continue strengthening our abilities in this area, we frequently invest in equipment and machinery and recently invested more than £1 million on two new automated drill lines. These lines can drill a hole in a steel beam and cut it to size very swiftly and efficiently," says Tom. In addition to this investment, the group has set up and opened a new Scottish depot in Montrose, with more than £3 million spent on IT systems, new saw and drill lines and new wagons for the fleet.
"These investments are partly in response to market demand, but are also to ensure we are technologically advanced so we can stay ahead of the competition. A decade ago stockholders didn't drill beams, but the steel industry has evolved and to offer value-added services is now a necessity," explains Tom.
By remaining ahead of the competition, Barrett Steel Group has carved a strong reputation in the markets that it serves as well as an enviable client base that includes blue chip firms and oil majors. Recent projects for the group include Barrett Steel Offshore Limited supplying 400 tonnes of laser cut precision components that will be used in the BP Quad 204 project. Fulfilled from its Middlesbrough site through the utilisation of 11 in-house stateof- the-art laser machines, including the plasma tube processor, the group provided high quality precision components ready for assembly. With full factory acceptance testing completed on site, the group was proud to complete a successful contract that is part of a prestigious oil and gas project.
A chosen supplier to a number of leading players in the oil, gas and power generation industries, Barrett Steel Group's specialists boast technical expertise that is well-respected by its peers within this specialist area. This powerful combination of expertise and experience in materials, processes and manufacturing has resulted in the group ranking on both the Sunday Times HSBC International Track 200 league table and the Yorkshire Insider's Top 500 in July 2015. Since then, the group has continued to grow, with more than £1 million worth of steel sold every day throughout its facilities.
Looking ahead, Tom is cautiously optimistic about the future for Barrett Steel Group as it faces the upcoming challenge of Brexit, which could potentially lead to projects delays or sluggish markets. "Our business is very reactive so we have a good barometer of what is going on in the UK. For now things are positive and we are continuing with our five-year plan to boost turnover to £300 million by 2020; this is our ambition and we aim to keep growing," he concludes.
Barrett Steel Group
Services: The UK's largest independent steel stockholders