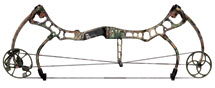 Soon after, Bear Archery will begin working on its 2013 line because as its vice president and general manager Jack Bow­man explains, the three most im­port keys to success in this business are new, newer and newest.
"We have to stay ahead of the competition because hunting is a passionate sport," Bowman says. "People who are passionate are always looking for a newer, better product."
Every year, Bear Archery introduces two or three new compound bows, which are mechanical bows typically used for hunting. That line includes a flagship bow that aims to push the technology of the sport a little further each year. However, this October falls on a revamp year, and Bear Archery will launch seven new products for the 2012 hunting season.
"There's about a two to three year lifecycle for the compound bow," Production Manager Jim Barbera explains. "Every year we come out with a top-of-the-line bow and usually two or three others. This year, we had more products that have been running for a couple of years; we wanted to update more products from the line."
The new line also includes compound bows made specifically for women and children, which are growing segments in the hunting community and a growing client base for Bear Archery. Bear Archery will also introduce two new traditional bows, which are made from wood and fiberglass. The technology and material used for the traditional bow itself will not change, but Bear Archery will add bows of varying lengths.
As of August 2011, the company had begun retooling its machines to begin making the new products. The prototypes are already complete, and some of the components for the compound bows are already in production and being stocked for future assembly.
According to Operations Manager Neil  Byce, Bear Archery is on track to begin producing complete products by late August or early September. "Typically we like to build ahead of what we ship," Byce says. "Our timeline is getting close, and with so many new products to launch, there will be a couple of items that might need to be expedited. But we are pretty much on schedule for delivery on time."
Keep It In House
Byce explains that Bear Archery manufactures many of the components for compound and traditional bows in house rather than outsource to other manufacturers. Bear Archery has computer numerical control machines to make many of its parts and also does its own fiberglass molding. It also adds its own finishing touches such as powder coating or printing its own hydrographics, such as the camouflage print on its compound bows. The company even purchases the raw materials to manufacture its own strings.
Each piece has its own quality control procedure and, once assembled, each bow is checked for straightness, weight and length. Bear Archery pro­ducts also are run through cycle tests where the company will shoot bows from a machine that imitates an archer's use.
By keeping manufacturing and quality control checks in-house as much as possible, Bear Archery ensures on-time delivery to the dealers and retailers that it markets its products to, while ensuring the quality of each piece and the entire bow.
"We are a well-developed manufacturing organization," Byce says. "We utilize many different processes and materials that are put into the product that we make.
"We are not just purchasing parts and assembling those parts together," he adds. "We do a lot of the manufacturing ourselves."
No Overnight Development
Bear Archery designs most of its products in house. Sometimes, participants in the sport or vendors will suggest ideas, and Bear Archery's engineers will use their knowledge to fine-tune the details.
However, about 90 percent of everything Bear Archery produces comes from the minds of its own employees, which Barbera says makes for a more fluid process.
"Whenever you are introducing a new product, there's a lot of trial and error and revisions to make," he explains. "You may make a prototype and then change this or change that. It takes months to introduce a new product. It's not something you just do overnight. There is a lot of back and forth.
"We have weekly meetings to see how we are doing and progressing," he adds. "This is a busy time of year. All the way from May to October we are busy with new work."