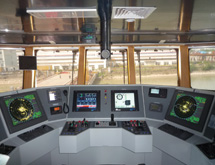 In an industry full of giants, Beier Radio has set itself apart with more personalized customer service than its larger competitors provide, President Karl Beier says.
"When you get with one of the large, multinational companies, you're basically just a number," he says. "[Our clients] want real service," Beier says. "They don't want to buy boxes and then have cold, impersonal services while their boat is down and they are losing money."
Based in Belle Chase, La., Beier Radio sells and services marine electronic equipment that is used globally to guide ships and protect mariners. Beier's father, Frank L. Beier, started the company in 1945, after serving in the U.S. Merchant Marine and gaining experience as a radio operator.
In Beier Radio's early days, it repaired and sold radios for automobiles and sea vessels. When Beier retired and gave control of the company to Karl Beier and his brothers in 1969, Beier Radio began developing new products for the marine industry, including steering control systems.
Today, Beier Radio employs manufacturers to build many of its products, while it builds some on its own. However, "We're not a conventional manufacturer, because I think we provide so many more functions after the product is built," Karl Beier says.
"We sort of hold the product's hand and the customer's hand all the way through the entire lifecycle of the product," he explains."When it gets to the end and the vessel needs something more than what [it has], we are there, holding its hand, ready to replace it with the next generation product."
Company Cornerstone
In the late 1990s, Beier Radio developed a Dynamic Positioning (DP) system that has become the company's "cornerstone," Beier says. He explains that the DP is an electronic control system that can hold a vessel in a given place over the water.
If vessels are offshore and cannot see land, or if it is too deep for them to drop anchor, the system allows them to stay in that position, Beier explains. "It was geared [toward] offshore supply vessels who have a need to constantly maneuver the vessel, change headings, positions, speeds [or] directions.
"In the eyes of the customers – the boat owners and the drilling companies – the DP is kind of the key item on the vessel," he says, noting that customers who like the DP will purchase the rest of its product line.
Beier Radio also supports the system with a service team that helps implement the DP on its clients' vessels, and a department that helps maintain them.
Additionally, the company has a training facility where "we can certify the operators for the owner to show that his crew is qualified to operate our system," Beier says.
"So not only do we manufacture equipment and supply that equipment, we provide the engineering necessary to help the owner assimilate that product into his vessel," he continues.
These extra touches help set Beier Radio apart form its competitors, Beier says. "When you're the little guy and everyone looks at you as being the little guy, you've got to give more with your products than the big guys do," he says. "And we do that."
Making Beier Stronger
Although times were tough for Beier Radio after the BP oil spill, business picked up in the last quarter of 2012. "Vessel owners started venturing out and risking signing contracts to build new vessels," Beier says.
"We started taking orders then and we will see shipments coming out here this summer through the second half [of this year]," he says, adding that Beier Radio is focused on growing itself. "[We want to] put money back into the company to make it stronger and able to withstand the slow times, and take advantage of the rising tide as the business increases."
Recently, the company acquired a former vendor, Sentinel Manufacturing Co., a Houma, La.-based company that specializes in engineering, product design and manufacturing engineered products. With Sentinel's facilities, Beier Radio can manufacture numerous items on its own, including steering systems, engine controls, navigational light panels,  vessel management systems, and equipment monitoring and diagnostic systems.
Additionally, Beier says, the company is building a new 10,000-square-foot facility for manufacturing and service support, as well as an 8,000-square-foot administrative office building. "We [also] built a new, 4,000-square-foot training facility specifically to train customers on the operations, maintenance and use of our products," he says.
Company Pride
Even with so much growth ahead, Beier believes his greatest accomplishment is how Beier Radio held its staff together in the face of bad economic times.
By consolidating its locations, it was able to avoid layoffs. "As a matter of fact, we haven't laid anyone off in eight years," he says.
"We have provided jobs, constantly improved benefits, constantly improved working conditions [and] held onto all employees," he says.