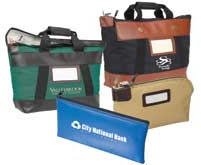 Cashiers, bank tellers, casino employees and others who handle cash can feel a little more secure thanks to Block and Co.'s products. The Wheeling, Ill.-based company manufactures money handling, security and storage products including electronic cash drawers, locking fabric money bags, transport sacks and steel security cases, key cabinetry and organization products.
The family-owned business was founded in 1934 by Mitchell Block initially as a direct catalog business, with metal stamping and cut and sew capabilities established 30 years ago.
Today, Block and Co. has four business units. The first division, which uses the Block and Co. name, is a direct business-to-business distributor of money handling supplies and equipment and security products to banks, credit unions, retailers, restaurants and the gaming industry.
MMF Industries and the MMF POS divisions include manufacturing and metal stamping operations with a joint venture in China and partnerships in Europe and Australia. MMF Industries supplies security, cash handling and metal products under the STEELMASTER brand. MMF POS manufactures cash drawers and point-of-sale accessories.
The Bristol Bag and Sign Co. division manufactures security bags and specialty signs for banks, retailers, armored carriers, security operators, the military and other uses, President and CEO Greg Carlson says.
The Block and Co., MMF Industries and MMF POS divisions are based out of the company's main 125,000 square foot facility in Wheeling. Bristol Bag and Sign is based out of a 30,000 square foot facility in Bristol, Tenn.
All four units take advantage of shared services including distribution, logistics, finance, accounting, payroll, human resources and IT functions, Carlson says. "We seek to maintain a globally competitive low cost of doing business," he adds. "We make use of shared services where it makes sense while ensuring the business units can operate with flexibility, creativity and speed to market."
Strategic Planning
Block and Co. developed strategic plans resulting in restructured operational changes in progress prior to facing the significant challenges of the national recession.
"We've implemented creative and increased uses of permanent part-time teammates while reducing staff and substantially increasing productivity," Carlson says. "A key part of our strategy during the last few years has been to increase new product development and also increase cash flow via accelerated turns, resulting in significant inventory reductions."
New Products
The company recently launched its Advantage series of cash drawers. The drawers have a modular configuration and innovative "LockiT" compartment for larger-denomination bills meant to prevent theft, Carlson says.
The series enables cash shrink reduction. Resellers now have net new business retailer change-out opportunities which did not exist before. The drawers are made to order in the Wheeling facility, and can be produced and shipped within six to 10 days of an order depending on the configuration purchased.
Other new products include security cases in the STEELMASTER product line, as well as mounting platforms for electronic signature acquisition pads. The company is also developing environmentally friendly reusable fabric security bags.
Production Lines
Block and Company's Wheeling facility is capable of producing products on both a long and short production cycle. Equipment includes Amada turret punch and stamping presses, electrostatic paint lines, and a welding area with 30 single-head and multi-head programmable semi-automated spot welding units.
The Bristol facility houses mainly sewing, embroidery, silk­screen and sign production capabilities supported by an Apple Macintosh computer-based design environment. The plant is known for customization and a quick re­sponse time, he adds.
Block practices just-in-time in­ventory control as well as lean manufacturing and kanban principles, and is ISO 9001-2 certified. Each day, the company performs efficiency checks and managers meet to discuss the previous day's performance and set goals.
"The continuous improvement culture is alive and well in our organization," Carlson says.
Making Commitments
While each of Block and Co.'s individual business units serve different markets and customers, the company's core values and commitment to customer service shine through in all of its operations. "Our values are a passion for service, integrity and fairness in dealing with individuals externally and internally, doing things right the first time, and innovation and creativity in all we do and our ap­proach to work," Carlson says.
One of the company's commitments is to the safety of its workers. In recognition of this, Carlson says that Block and Co. recently received a safety award from the Tooling and Manufacturing Association for its efforts in creating a culture of safety within the organization.
Outside of its facilities, Block and Co. supports a number of organizations and charities including City of Hope, a leading cancer research center. The company also sponsors events in conjunction with local community support services. "We are committed to our teammates and local community," Carlson adds.