Your partner in security
By investing in automation, Bradbury Group has stolen the march on its competitors in the manufacturing of steel doors. Having just opened a new state-of-the-art factory, the company is looking to double in size over the next five years
Its mentality of continuous improvement has been the engine that has powered Bradbury Group into the front ranks of the steel and security door manufacturing industry. Since 1992, the Scunthorpe-based manufacturer has designed and produced a wide range of steel doors, personnel doors, certified doors, and communal entrance doors, as well as security grilles, window bars, and cages, putting in practice its core values of being best, fair, and efficient day in and day out.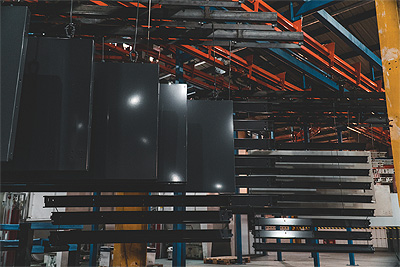 The last five years, in particular, brought such a speedy growth that even the company itself was taken by surprise to a certain extent. Bradbury Group's Technical and Export Director, Paul Sweeting comments: "Our ability to adapt to an ever-changing marketplace has been key. My view is that a lot of our competitors in the last 15 years fell behind, because they failed to invest in new products. We, on the other hand, have not only developed our product range, but have also invested heavily in automation, purchasing new machinery to make our manufacturing process as lean as possible."
As a result of the experienced growth, a pressing need for capacity extension occurred, and Bradbury Group moved into its brand-new, state-of-the-art factory in the autumn of 2018. "This was a major effort on our part and represented a significant investment for the company. It was a much-needed step, though, as we are now aiming to capitalise on the position of market leaders we have reached in the past few years," Paul maintains.
"The type of methodology we were able to apply across the factory is something unseen in the world of steel door manufacturers, which takes us streets ahead of the competition," he continues. "Our investment in automation allows us to shift away from the traditional means of production, which has historically involved handcrafting the doors. The building of the new facility is a way to future-proof the business and we have even started considering our opportunities to extend it further when we get to the point we want to be."
Bradbury Security is the founding part and the main division of the four that make up the Bradbury Group. Accounting for approximately 60 per cent of the company turnover, it is predominantly engaged with the manufacturing of fire-rated and security-rated general purpose steel door sets. "Martin Roberts is another division of ours and it used to be a competitor, which we acquired a few years ago. What distinguishes Martin Roberts from Bradbury Security, is the marketplace into which the former delivers its door sets – namely, the architectural sector. It produces very high-end products that have been used on pretty much anything you can think of on the London skyline – from The Shard and The Cheesegrater, to numerous historic buildings.
"Then, Newton Security Doors is our communal entrance doors division and Extendor represents our grilles and cages business. In fact, Bradbury Group started as a grille company, but our owner and Managing Director, Tim Strawson, quickly realised that the door segment was going to be the area of growth in the market," Paul remembers. "We acquired Extendor about seven years ago to complement our range of security-rated doors with security-rated grilles and bar sets, which are now mainly being sold overseas – in British Commonwealth offices and embassies around the world.
"Owing to our innovative practices and designs, we managed to shape the market in the past decade or so. Formerly, we would concentrate on producing large volumes of non-rated doors, but at one point, we decided to prepare a range of higher-end, accredited products by applying our value engineering and volume manufacturing techniques that allowed us to make our name as an innovative solutions provider. We continue to spend hundreds of thousands of pounds every year on R&D and getting these accreditations to maintain the high standards we ourselves have set," he adds.
Paul has also registered the customers' inclination to seek a total solution package. "It was becoming more and more clear that if somebody wanted to buy a door, they were interested in purchasing a window grille, too. I think we succeeded in diversifying our reach as a company with the acquisitions of both Extendor and Martin Roberts, which eliminated the need to rely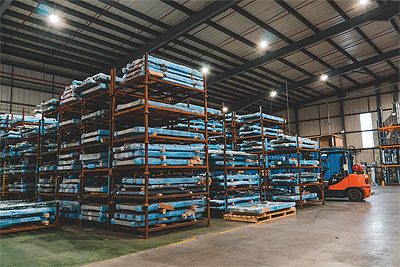 only on one or two sectors, and that has been crucial for our growth. We have now developed a product range that enables us to offer solutions to a wide range of markets – we do a lot of work in the utilities sector, in construction and retail, and we have also worked on a number of government infrastructure projects," he analyses.
Speaking of the major growth areas for the business in recent times, Paul singles out the utilities sector as Bradbury Group's primary field of action. "The Government spends a lot of money on upgrading the security of various infrastructure assets and, due to us launching a range of government security-rated products, we were able to win a few large contracts, for example, in the energy market. We have recently developed a new range of flood-rated door sets, because our big customers in the utilities sector wanted us to secure certain electrical substations. Furthermore, we are also trying to dig deeper into rail now, which is a big step away from the core marketplace we have been targeting in the past 15 years." 2018 will also be remembered for Bradbury Group's early efforts to establish a firmer presence abroad, chiefly in the Middle East. "We have set up a partnership with a company based in Dubai, as we are trying to get involved in some of the many major ongoing construction projects in this part of the world. Right now, we are tendering for work we can do on the new stadia that are being built in Qatar for the 2022 World Cup. It will be a real feather in the cap if we get the chance to prove our capabilities within some of these projects," Paul eyes international expansion for the company.
"The outlook for 2019 is incredibly positive," he enthuses. "This year, we will start reaping the fruits of having our new factory in full operation, which, in turn, will increase our profits and allow us to be more aggressive in certain market areas. Currently, we are in the process of installing a new ERP system to ensure the efficient functioning of the plant. In addition, we are working on improving our digital presence significantly. This will involve the launch of a brand-new website and ecommerce platform. In a way, our top clients will be able to buy from Bradbury Group the way they do from Amazon," Paul smiles. "We have realised the need to invest in the front end of the business, in order to boost our chances of winning new contracts by deploying new marketing techniques.
"It is also quite important to mention that we are working closely with local institutions, here in Scunthorpe, to open new jobs in the factory. We are enthusiastic about supporting the community and creating opportunities for the town's people. Aside from that, our goal is to strengthen our position as a market leader, remain at the forefront of innovation, and continue setting new standards and precedents for the ways in which our industry works," he concludes.
Bradbury Group
Products: Steel doors, certified doors, communal doors, security grilles, window bars, and cages