Saving lives under the lights
Brandon Medical – the UK's only manufacturer of surgical lighting solutions, received a remarkable acclaim in 2018, when it was presented with the Queen's Award for the second time in its history
After years of hard work to develop an export strategy for the successful opening up of the Asia-Pacific market, in 2018, Brandon Medical received the highest possible recognition in UK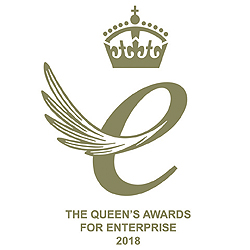 business – the Queen's Award for Enterprise, in the International Trade category. Since 1993, the medical equipment manufacturer has been owned by the Hall family – Eric and his son Graeme acquired the company in June that year, and today, Graeme and his brother Adrian are the company's Managing Directors.
"We want to remain strong in the UK market, because this is where our knowledge base is, but in reality, we are trying to build the export side of the business in a way that it will be responsible for about 75 per cent of our turnover," Graeme comments."For a company like ours, the healthcare market in the UK is not that big, whereas the opportunities overseas seem infinite. Traditionally, we export to the Middle East and we are also targeting Asia, which, as it stands now, is the source of our biggest growth.With the exception of China, countries like Malaysia, Thailand, Indonesia, and the Philippines do not manufacture medical equipment themselves, but rely on imports. Couple that with the fact that the so called 'Premier League' for medical equipment manufacturing consists of Germany, France, the USA, and the UK, it turns out that being a British company manufacturing healthcare products is a very good thing to be in the export market," he reasons.
Throughout the course of its history, Brandon Medical has gained an enviable reputation for the development of medical lighting solutions, but in the past few years, the business has made strides towards diversifying its offerings."In 1993, medical lighting represented about 80 per cent of the business, but these days, we have three other major product groups alongside – control and power systems for operating theatres, medical architectural equipment, and medical AV systems," Graeme outlines.
He insists that even though the company has been known mainly for its medical lighting products, it has much more to offer nowadays. "Back in the day, medical lighting was a niche market, because it was a very distinct piece of equipment that nobody was manufacturing in the UK. But today, we want to be seen as a company that can provide our clients with a much wider range of products.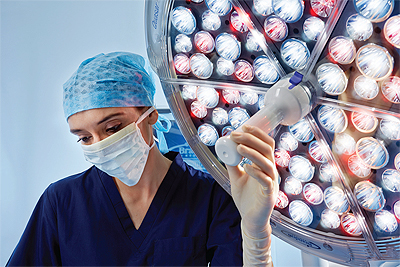 "We design and build power systems for operating theatres and critical care units, as well as control panels for hybrid operating theatres. This type of operating room is a big trend at the moment, because it combines an imaging suite and a surgical theatre into one site, which enables the imaging of the patient during a surgical intervention. It reflects another innovative trend, which is the shift towards minimal use of invasive techniques," Graeme points out.
The range of medical architectural equipment occupies a prominent place in Brandon Medical's portfolio, too.The company offers medical supply pendants, which are smaller in size and more flexible, thus freeing up space in the surgical theatre."We also provide medical AV systems via our Symposia brand, which is a digital media package designed specifically for the healthcare industry.The system aims to connect medical professionals to a range of AV resources. For example, medical video, images, data, and audio can be streamed into lecture theatres, or telementoring can be performed, in which senior consultants monitor trainees during live surgery.
"All of our processes are built around creating better products that our customers will want and be delighted by," Graeme begins to talk about the company's core values."We are an ethical business and we firmly believe in family values. Our mission is to be trustworthy, meaning that we always have to tell the truth; passionate, i.e., we love what we do; and friendly towards our stakeholders, customers, and suppliers.We are proud of the collaborative partnerships we are engaged with, and of the fact that we have never lost one of those.When we recruit new people, we want to see that they possess the aforementioned intrinsic values. As we work in a knowledge-intensive industry, we have employees with a broad range of skills at our disposal, including specialists in embedded software, electronics, product design, optical design, mechanical engineering, and others."
Graeme also takes the time to review the changes in the nature of business' customer base. "When we started, we would do a lot of small projects directly for NHS hospitals, but the way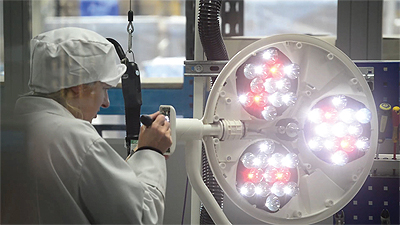 projects in the industry are being delivered has changed, because the NHS now outsources most of its engineering, so most projects are now being implemented by private sector providers. Therefore, over the years, we have grown into supplying to some of the biggest blue chip names in healthcare."
Brandon Medical operates a 50,000 square feet manufacturing facility in Morley, near Leeds, from which it develops its products."It is worth clarifying that we are not just an assembly plant, but we do in fact manufacture.We do metal cutting, we have paint plants and clean room assembly practices.The manufacturing of mechanical parts is mostly automated, but the assembly is predominantly manual," Graeme notes.
Well into 2018, he is already able to provide an early insight of how the year has panned out for the company so far."After we experienced a 30 per cent growth in 2017, we are now running about ten per cent up on last year, and sales are gradually starting to accelerate, so we expect to maintain this rise throughout the rest of 2018." Graeme then concludes by sharing his long-term vision:"Simply said, we want to be the first-choice supplier for the customers.The plan is – if somebody knows us, they would not think of calling anyone else and will always call us first."
Brandon Medical
Products: Surgical lighting solutions; medical architectural equipment; control and power systems; medical AV systems; operating tables