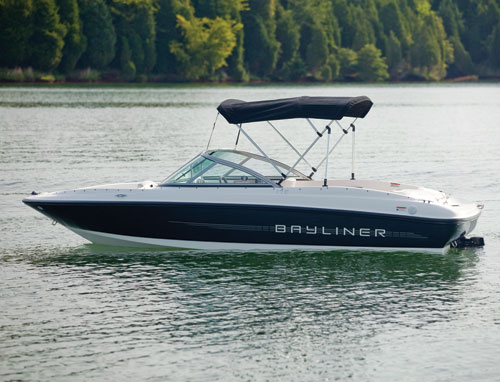 Brunswick Recreational Boats
"We have maintained quality, value and innovation, while removing significant costs.  Another advantage is that we have the ability to build multiple brands within our manufacturing fac­ilities, so we're able to leverage high­er volumes than anyone else," he says.
Not that Brunswick's brands haven't been affected by the downturn – the company has closed a number of its plants in the last five years, he notes. But it is organized in such a way that it can still respond to the wants and needs of consumers and remain a major player in the market with 16 boat brands.  "We've taken out huge chunks of fixed costs from our operations," he says. "We're structured in a way that we'll be as profitable, as a percentage, at half the volume we used to be at."
Brunswick Recreational Boats has seven primary manufacturing facilities – two in Florida, two in Tennessee, and one in Mexico, Port­ugal and Poland. Beginning with R&D, Bruns­wick keeps each brand unique and offers features specific to the desires of each brand's consumers, McNew explains. It then leverages its sourcing of components to achieve economies of scale. By keeping costs down and maintaining each brand's unique attributes, consumers remain loyal to the brand, he says.
"What makes it even better is that we have the safest facilities in the entire industry," he adds. "Our facilities are 16 times safer than the industry average, and that goes hand-in-hand with our ability to produce quality products. We have a strong, capable and tenured work force, which adds tremendous value to our products."
Focused and Lean
Brunswick has adopted a number of lean manufacturing and Six Sigma practices. "We have a very robust in­ternal lean system and several black belts on staff," McNew notes. "Nearly every manager has a minimum of a green belt, and this drives the mentality to continually make processes more cost-effective and quality-minded."
Brunswick got aggressive with lean manufacturing's quality initiatives about 10 years ago; McNew himself is a Six Sigma Black Belt. Lean has helped the company's credentialed designers and degreed engineers work with the boat builders and their superior craftsmanship to produce "integrated processes that act like a well-oiled machine," he says. Lean is so ingrained into Bruns­wick's pro­cesses now, he explains, that it shares these techniques with its suppliers – primarily small shops that typically don't have the re­sources or capabilities to implement lean on their own. As a result, the company is continuously improving quality throughout its supply chain.
Coordinated and Motivated
A few years ago, Brunswick's chairman, Dustan E. McCoy, challenged each division to grow internationally, McNew says. The U.S. marine market remains the world's largest, but em­erging markets outside of the country offer the company attractive growth opportunities, and although the rec­reational boat division already has a global presence, the company is eager for it to grow its business.
"New products are definitely an area of growth for us, and our cycle time is down by 21 percent in the past 12 months, so we can deliver product faster than ever before," he says.
The company not only exports to nearly every continent, but it also has contract manufacturers in Poland and Argentina and is looking to ex­pand its manufacturing presence inter­nationally, so the recreational boat division is well-positioned for global growth, he adds.
"What is great in this company is that we are not individual silos – everyone is coordinated and highly motivated, and each function works well together," McNew says. "We work together effectively and share best practices."