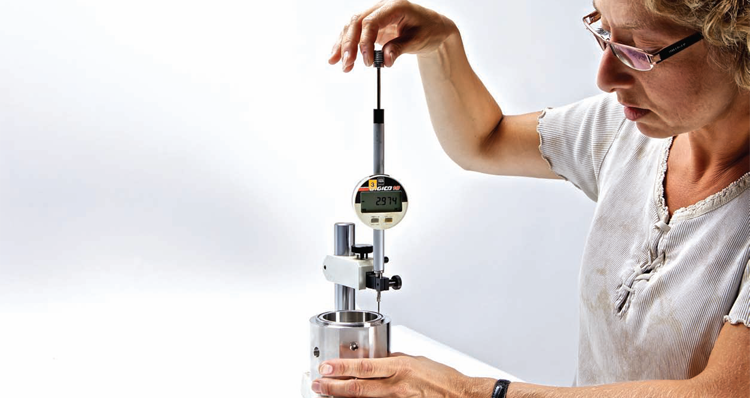 Quality is key
Brüsch Precision AS is one of the world's leading developers and manufacturers of precision components for industries such as medical technology, defence, scientific research and energy.
Family owned for three generations, Brüsch Precision A/S is a financially stable organisation that boasts many years within the machining sector and a wide range of blue chip companies as customers within industries where precision and quality are imperative. "Since our foundation by Hermann Brüsch, grandfather of myself, Jakob Brüsch, in 1958, we have been in constant development," begins Joint Owner and Managing Director Jakob Brüsch. "Over the years focus has changed from mass production of standard parts to the production of more complicate parts for more demanding customers. At present we have 35 employees working three shifts on a 24/7 basis and 75 per cent of our turnover comes from exports to Norway, the US, Australia, Germany, Slovakia and Ireland."
Processes undertaken by Brüsch Precision include CNC turning, which enables the firm to supply workpieces up to 0200; within this business segment it works with all materials in batch sizes from ten to 5000 units. The company also boasts CNC sliding head turning machines, which deliver precision workpieces in all materials up to the dimension 032; batch sizes range from ten to 10,000 units. On top of this, from its state-of-the-art CNC machining centres, the company supplies workpieces in various sizes and works with all materials in batch sizes from 50 to 5000 units. Discussing current projects, Jakob notes: "We are very proud to be supplying parts for space projects. In 2016 the final project will be finished and sent to ISS for installation on the Columbus Module. We also produce parts for complicated surgeries, which save lives and also increase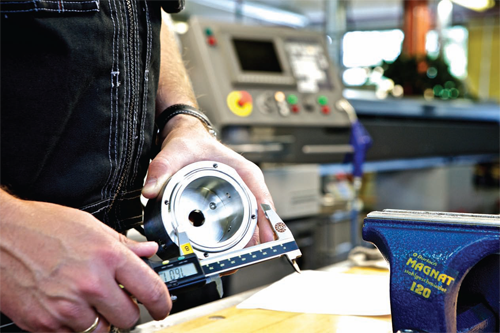 the quality of patients' lives. Although we have NDA with most of our clients, many of them are highly recognised, well-established market leaders in their own fields."
Operating within markets that all have confidence and high demands in quality, precision and flexibility, Brüsch Precision has honed its expertise in these required areas to ensure optimum satisfaction, as Jakob highlights: "We have worked with quality systems since the late 1970s and the quality throughout our corporation is in all of our cells – we are quality. We have ISO 13485, a quality system regarding medical devices, which is extremely important to most medical device manufacturers. In fact, when this standard is mentioned doors are almost opening automatically. On top of this, we are also interested in delivering low volume parts, an area that is not very common. To maintain our good reputation for competence, we train our employees to be highly skilled, responsible and humble towards every single assignment they work on. At Brüsch Precision we take great responsibility in educating and supporting young students and always have at least three students progressing in-house."
By preventing a shortage of skills within its areas of operation, Brüsch Precision will always be prepared to meet the demands of its clients in its core market industries. "The industrial technicians that we educate are trained in meeting the high demands that are found in the segments that we address. We have several students that have been picked to compete in industry-specific competitions and have won. Indeed, to educate and support young people is one of our declared CSR strategies and we are very proud of it!" adds Jakob.
Alongside this focus on quality in all areas of operation, the ISO 9001: 2008 certified Brüsch Precision also has its own quality department, which further guarantees consistent high quality through complete process control and individual quality solutions in accordance with customer specifications. By living and breathing quality throughout the entire process, the company offers zero defects during production, an individual quality process, complete traceability, documentation for all processes and certificates for materials and processes.
Once the products have been manufactured, the company offers whole or partial assembly as well as purchasing and stocking of subcomponents for fitting to workpieces. Meanwhile, the final check, as well as documentation and packing, are completed as agreed with the client. For the delivery of products, Brüsch Precision offers customer specific packing and shipping and will also willingly send directly to business partners across the globe. All items that are sent from Brüsch Precision are given a final thorough check to ensure the agreed level of quality is guaranteed. Individual traceability is also offered in addition to shipping solutions.
With 75 per cent of turnover coming from exports, moving forward, Brüsch Precision is looking to develop the German market over the next six to 12 months, as Jakob states: "We have identified 700 potential customers within the medtec sector; 70 of which we have called directly and are currently planning visits to. The initial call and following contact has been performed by an agent and our local representative in Germany. Once we have built up a customer base in Germany, we will consider starting the same project in the UK and Ireland."
On top of this, the quality conscious company will naturally continue to improve its quality system and create methods to maintain its position as a globally leading manufacturer of precision engineering components.
Brüsch Precision AS
Products: Precision components
Sites: Rødovre, Denmark