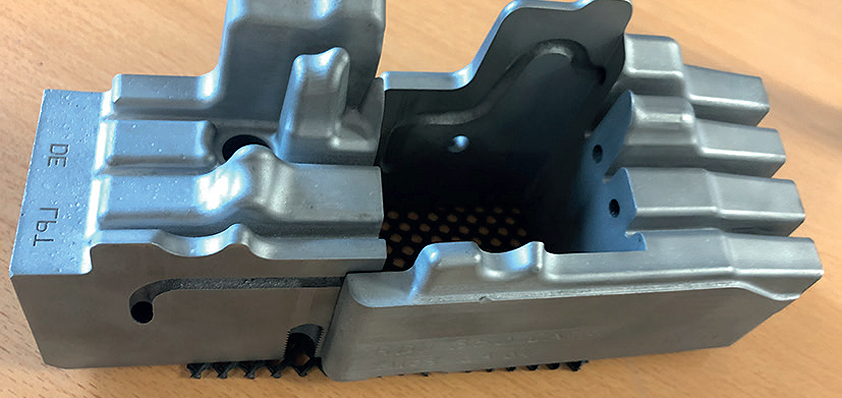 Meeting the challenge
An acclaimed aluminium diecaster, trusted by a host of international prestige brands, CastAlum is a forward-thinking company that is now leading the charge in utilising additive material technology
It was in the winter of the year 2000 that ground was first cut on a greenfield site in Welshpool, Mid Wales, which would become the home of CastAlum, an internationally recognized aluminium diecaster. Originally supplying cast only parts to a single customer, the company has since expanded to supply a range of high pressure and 'squeeze cast' products to clients in the UK, Europe, Canada, Mexico, and beyond. CastAlum's components are cast, cast and machined, assembled and tested in-house, and today find themselves within vehicles produced by the likes of VAG, BMW, Ford, General Motors, Fiat, Porsche, Mercedes, Jaguar Land Rover and other prestigious marques.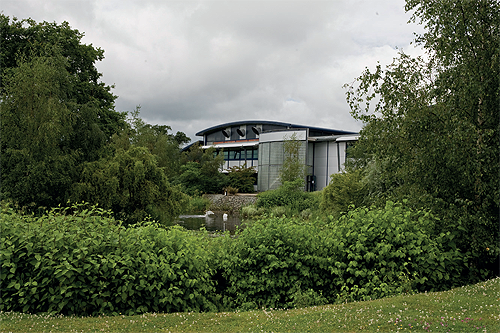 "CastAlum is a naturally proactive and aggressive business, and one that has built its reputation upon being best in class and producing particularly challenging products," explains Engineering Director, Paul Dodd. "Ours is not a foundry that makes what I would call 'punch and crunch' products, but rather we target higher end, higher added-value components. With regards to high pressure diecasting, we have ten fully automated high pressure diecasting cells in the range of 1000-to-2000 tonne locking-force, each with its own integral bulk-melting tower furnace and in most cases up to four robotic devices. Where previously we focused on steering gears, we have more recently increased our knowledge base to specialize in more transmission-type components.
"Squeeze casting wise, we have three fully-automated cells in the range of 1600-to-1800 tonne locking force for the manufacture of indirect squeeze castings in aluminium, again with their own individual integral bulk-melting tower furnaces and robotics. These allow us to produce heavier, more structurally dense parts for transmissions that are heat treatable. Core products made from this process include steering knuckles, and power take-off covers and housings where elevated mechanical properties are required."
In the last decade in particular, CastAlum has invested heavily in the development of new products, processes and capabilities. One of the most exciting elements of this has been its investment and understanding of additive material technology to aid with conformal cooling. This has allowed the company to change what is viewed as feasible within its field.
"We began our additive journey in 2013, spurred on by the experiences of one of our favoured tool makers, and we could immediately see a range of benefits and huge potential from it," Paul continues. "Where we did face a challenge was in replicating the technology over a number of tools running at the same time and gaining consistency. It quickly became clear to us that, whilst there was a huge appetite for additive technology, there was little actual knowledge out there as to how to best apply it. Add to that the fact that, while it was mostly suited towards use on refined, skeletal, lightweight structures, we wanted to use the technology to produce heavy, dense lumps of tooling with a complex water course running throughout. This, ultimately, led to us forming a tri-party consortium – via Innovate UK – in conjunction with British engineering company Renishaw and Coventry University."
The objective of the consortium was to gain an understanding of how best to apply additive technology to steel tooling, how to make the process repeatable, and to identify its limitations in conducting these tasks. It also has provided CastAlum with the knowledge needed to create a solution that gives it considerably more design freedom in terms of cooling. "Dealing with the heat generated by the casting process is a considerable challenge," Paul affirms. "We are pouring aluminium at around 700 degrees, injecting it at huge speeds and pressures, cooling it down as quickly as possible, and starting the pattern all over again. With that can come certain quality defects if the cooling process is ineffective, including soldering, leak paths and enhanced porosity. With the vast majority of the parts we make having pressure tight requirements, ineffective cooling has the potential to cause costly downtime.
"One of the University's contributions in Coventry to the consortium was to identify the optimized cooling geometry and heat transfer at which we can run the additive material technology in order to generate our products in various different geometric shapes and sizes. This knowledge gives CastAlum a massive competitive advantage."
Today, CastAlum can proudly boast that it is the first aluminium caster in the UK (and possibly in the whole of Europe) to have introduced additive material capabilities to its own premises, and as Rhys Jones – Additive Manufacturing Project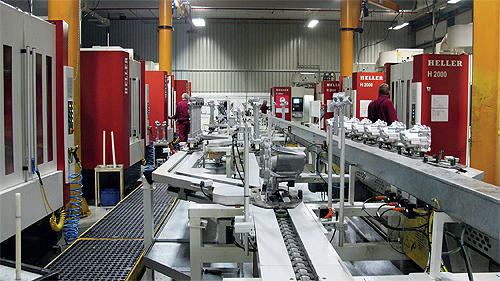 Manager – reveals, this has the potential to give the company far-reaching potential. "Having the technology and experience under our own roof means that we can look to offer help to anyone out there that is looking for ways to manage temperature through conformal cooling, whilst maintaining our competitive advantage," he says. "For example, we have held some initial discussions with a company that is relatively local to us that is in the process of converting electric vehicles and is having to deal with the issues of the heat generated by electric motors, drive systems and batteries. So, as a potential next stage in our own development, we could look to assist such companies with their cooling, before possibly developing castings that solve their problems entirely."
Looking at how 2020 has played out for the business, Paul details how CastAlum has been fortunate in the fact that, coming into the new year, the company was seeing what he describes as a natural reduction in output as various programs were coming to an end. "This meant that the potential effects of the lockdown that began in late March as a means of combating the Covid-19 pandemic were greatly reduced," he adds. "Since the UK started emerging from lockdown, we have seen a fairly quick bounce back in activity in most areas, picking up build orders for a couple of new programs. These programs are currently focused around engineering activity, so will not turn into sales and production activity for another six months or so yet, however they look very promising."
With 2020 also marking the 20th anniversary of CastAlum's inception, it seems as opportune a time as any to enquire as to what the long-term future holds for the business, and it is clear from speaking to Paul that the company sees itself remaining class leading, not only in regards to the incredible advances it is making in additive material technology, but in all aspects of its work. "Since the year 2000, we have marked the last two decades with a pattern of steady, consistent growth," he proclaims. "Having spent the last 18 months or so bringing existing programs to a conclusion, our outlook for new programs that will require components and solutions to challenging problems sees us on a predicted, progressive growth spell through to 2025 and beyond.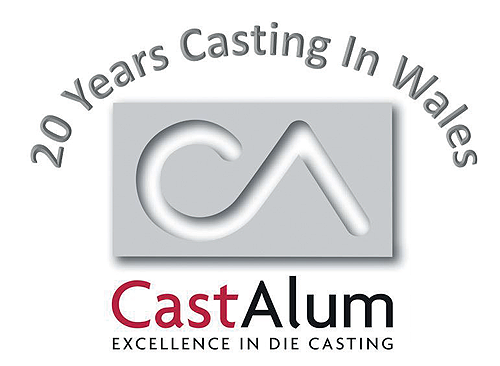 "For CastAlum, our mission is not to be the cheapest, rather it is to be the very best, and testament to that approach perhaps best comes from the fact that the programs we find ourselves picking up are typically not new ones. Rather, they are existing programs where the customer has yet to succeed in overcoming their casting or cooling challenges, and they ultimately turn to CastAlum, because we have a proven track record of success. So, in the long-run, we expect growth to eventually return to pre-pandemic levels, and we will continue to ensure that we remain the supplier of choice for complex components, all while providing a rewarding place of employment for our workforce!"
CastAlum
Services: Aluminium diecasting T: +44 (0)1938 557557
www.castalum.com