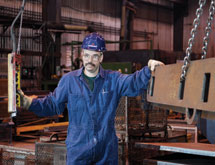 The name of the game for sawmills is obtaining the most board feet of lumber from each log. The size of a log is not the only determinant of how much lumber can be obtained from it. Its quality – the number of knots and other imperfections – affect each log's utilization and even the markets to which its lumber can be sold. That is why the vision scanning technology that Comact provides for its wood processing equipment is so crucial to sawmills.
The decision about how to cut a log to maximize the value of the lumber obtained from it has evolved from human observation to the incorporation of increasingly more sophisticated technologies to scan a log and determine its best use.
"In the 1970s and early 1980s, we were breaking down logs and lumber and trimming and putting it together with all human decisions," recalls Simon Potvin, Comact senior vice president of manufacturing. "We went in the late '80s and '90s and even into the 2000s with geometry scanning. So we would have different scanning technology to take the outside shape of the log and get the boards and the lumber based on the information we were gathering. Then we would break it down, cut it and trim it to maximize the use of the fiber."
The speed of this scanning increased from the 1970s to the 2000s from being able to scan at 150 to 200 feet a minute to 700 or 800 feet a minute for the same type of logs. "In the last six to seven years, we've started to introduce vision," Potvin says. "We're also scanning for geometry, so we know the outside shape of the components, but we also look at the surface – the color, the knots, the rot and all that – and we use this vision that we get from that scanning to make better decisions as early as we can in the process so that we can maximize the value of the lumber."
Instead of trying to get only the most board feet of lumber out of a log, the system also evaluates the quality of the lumber to match customers' requirements, which vary among companies and countries. "Customers have very specific rules on what these pieces of lumber should be looking like, and over the years, we have developed the tools to be able to classify the lumber based on where the lumber is going to be on the ground for customer usage," Potvin explains.
"Home Depot wants every piece of lumber to be perfect, because they know their customer," he continues. "If a board is curved or bowed or doesn't look very good, it's going to stay there. Whereas in China, the construction market wants to buy lumber as cheap as possible, so they accept way more defects. Japan wants all lumber white and clean and no knots. So we have been able to get our customers to pick the best lumber and make sure that is what we get from the outset."
Soft Core
At the center of every log is softer wood that lacks stiffness and does not have much value. It may be from 6 to 8 inches in diameter. "The vision scanning is helping to define where that core is and make sure we do break down the logs and cut the boards to isolate the core as much as we can and exclude it," Potvin says.
The amount of round wood that has had its bark removed to produce 1,000 board feet of lumber has been decreasing in the last few decades as technology has improved. In the 1970s and '80s, Potvin estimates the first generation of equipment would need approximately 5.5 to 6 cubic meters of debarked round wood to produce 1,000 board feet of lumber.
During the 20-year period of the 1990s and 2000s, Potvin estimates the amount of round wood needed for 1,000 board feet of lumber dropped to approximately 4.5 cubic meters. Today, he calculates only 3.0 to 3.4 meters of round wood is needed.
"All over that period of time, we'd had to design and manufacture mechanical equipment and be precise enough to execute the solutions and different patterns and ways of cutting the wood," Potvin declares. "All of that is automated today. There is no more human decision other than making sure the system is running and logs are going into the system. It went from fully manual to completely automated."
Potvin estimates that in the last five years, vision scanning added from $25 to $40 in value per 1,000 board feet. "We did gain a lot on the physical side and the geometry side," he says. "The vision scanning brought another concept, where we gained in value per thousand by taking lumber and bringing it up in value. Better decisions made higher possible grades in every piece of lumber. Some customers gained $30 to $35 per thousand board feet. They do a couple hundred million board feet in a year. These are huge paybacks – a lot of money for them."
Design and Install
Comact designs and installs wood processing equipment and plants the world over. "We design all that," Potvin says. "We deliver and we commission them. We do all the control systems, as well. We take round logs and break them down and put it all together, and take the lumber and scan it and trim it, and do the final package.
"We do all the mechanical, the controls, the scanning and optimization. That is all part of what we do. Not as Comact but as the BID Group, we even build complete mills from the ground up, pouring the concrete, putting up the building, installing the electric, doing the electronic work, and designing and manufacturing 90 percent of the equipment that will get in the mill."
Comact has just opened a new 40,000-square-foot manufacturing plant in St. George, S.C., to complement its 90,000-square-foot plant in Saint-Georges, Quebec. "Our Saint-Georges, Quebec, facility does all the high-tech equipment, and that's only 50 percent of our delivery as far as mechanical components," Potvin says. "The rest of the equipment is from mid- to low-value-added equipment. It's very expensive to put that on trucks and freight it down to Florida, Alabama, Texas or South or North Carolina in this market. So by having that plant now we put ourselves in the position where we can offer projects and be way more competitive." An added benefit is that companies in the South can buy a product that is manufactured in their region.
Comact Optimisation employs 60 engineers and programmers in Boisbriand, Quebec, and integrates electronic components bought on the market to create the company's wood processing control systems. "We're really more of an integrator on the electronic side," Potvin says. "We're more of a software company than a hardware company on this side. We're buying hardware and putting it together to feed our software."
Manufacturing Operations
Comact performs several manufacturing operations on 10 to 20 different thicknesses of steel, from 12-gauge to beams from 6 to 8 inches thick. "We buy tubings of all dimensions, from 1-by-1 to 12-by-12 tubings," Potvin says. "We buy beams depending on the different applications. We're not buying in rolls. The biggest we would buy is 40 feet."
Comact does all the steel preparation including plasma and flame-cutting and sawing. "Then we will do some rolling and forming, and we weld it all together," Potvin explains. "We do machining and stress relief in that process. We have CNC machining and standard machining, as well, and all mechanical assembly. So we put it all together, we test it in our facility, as well. We make everything run and move and turn to what it's going to do in the field. We're not breaking down lumber in our facility, but making sure all the equipment is doing what it's supposed to do. We paint, finish and ship them to the field."
Parts undergo conventional painting. Any powder coating is outsourced, along with any welding that is more specialized, in higher volumes than Comact can handle or can be outsourced less expensively than Comact can do it. "The only thing we keep in-house 100 percent is final assembly and testing," Potvin emphasizes. "We want to have the last look at our equipment before we send it to the customer."
The new South Carolina plant will concentrate on cutting, steel preparation and welding, along with some small-scale machining, painting and some mechanical assembly. Fewer hydraulic and pneumatic components will be assembled in South Carolina and more mechanical and structural work done there. "At the moment, we're trying to replicate what we are doing in other plants because we know it works," Potvin says.
Comact purchased an existing building for the South Carolina plant and began transforming it Aug. 1 for its new use. The company has purchased approximately 80 percent of the production equipment in it new. "We did find some good deals on used equipment, so we did buy it," Potvin concedes.
More Planning
The latest production technology the company has purchased besides the equipment for the new South Carolina plant are plasma cutting equipment and an automated steel beam-cutting machine. "We've put a lot more emphasis on the way we're planning and we're doing our sequence of manufacturing and trying to maximize the volume of the plants while keeping the work in process as low as possible and cutting the lead-time," Potvin says. "So we've been working on our software and planning tools to really focus on that to maximize the usage of our facilities without putting the inventory up and creating larger costs. This is where most of the energy has been put in the last couple years. When we would feel we are in the position where we do maximize the usage of our assets, then we might go in and invest more in robotics and other technology, but that's not where we are yet."
An additional challenge of Comact's business is ensuring each little component for every custom wood processing system is available when it is needed – but not too soon – during the entire production schedule of the equipment, from design to final assembly. "Sixty to 70 percent of what we do is custom, so there is not that much repeating in what we manufacture," Potvin points out. "Maybe 40 to 50 percent is a repeat. We have 500 to 600 different products, so our product mix on the floor is never the same."
The type of manufacturing that Comact performs is not as predictable as the auto industry, where a vehicle may be built on the same production line for three years. "We know what we are going to do today and in the next six months, because we have backlog for that, but all that is going to be moving all the time," Potvin says. "We design our software so we can handle these variations very easily and be very flexible and take action on what we're going to subcontract and what we will keep inside. We have limited capacity in machining and welding, so we want to make sure we know as soon as we can where we are limited and what we need to bring out for subcontractors to prepare for us."
Forecasting Costs
Forecasting the price of steel is a challenge when the time from proposal and design of a system to final delivery may be from one to one-and-a-half years. "In our case, steel may be 8 to 9 percent of our overall cost," Potvin estimates. "So the variation in the cost of steel has an impact on what we're doing."
Another challenge that many companies including Comact feel is in obtaining skilled employees. But Potvin points out that manufacturing employees will not be welding the same part every day. Because of the custom products the company manufactures, that production employee will be doing a variety of tasks. "I think that offers a very nice challenge for these trades," Potvin says.
Comact seeks employees from technical school students, offering them 10 to 20 hours of work on their weekends while they are still in school. "They have a job and make a little bit of money," Potvin notes. "We try to create that link with them, so when they are done with their school, they want to come and work with us. We like to be in small places like St. George, S.C., and Saint-Georges, Quebec, where people will be proud to wear our logo and say to everyone, 'We are part of the company.'
"Because putting a plant together and putting equipment into a plant is the easy part," Potvin says. "Getting the right people in that plant who want to work and deliver the product is our biggest challenge every day."