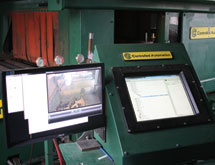 Controlled Automation, based in Bauxite, Ark., has created high-performance machines that offer labor and material cost savings to any size structural steel fabricator company.
The company was established in 1986 and began by retrofitting or adding components to machines that were not included when they were first manufactured, Vice President of Sales Kris Sikes says. "We got a good idea of what people were doing wrong and right and developed our own machinery from that," he adds.
Today, Controlled Automation specializes in machine design, manufacturing and software. As well as new machinery, Sikes says the company is the industry leader in retrofitting control systems and remanufacturing structural steel fabricating machinery. "We do everything in-house," Sikes says. "Everything is designed, engineered and built by us. The software and controls that operate our machinery are also fully automated."
Controlled Automation software runs on Microsoft Windows operating system for its machinery and chooses components for those machine controls that can be found at a local electronics store, Sikes explains. "The controller is built in-house and is tied to our own SICAM software to run a machine," he adds. "We operate everything in Windows and if there are controller issues, they can buy a replacement from [a local electronics store] and don't have to order an expensive part. We try to use components off the shelf. That's pretty different for our industry."
Productivity Enhancements
Its robotic plasma cutting system is a hybrid design, optimized for the plasma cutting of structural steel and one of the most popular systems at Controlled Automation, President Mark Coonce says. The main feature of the system is its flexibility. "It allows the customer to process a part completely without a secondary process before welding," Coonce explains. "It's relatively new but has been on the market for a couple years. It is becoming more popular as fabricators are seeing the possibilities of how the system can reduce labor cost and increase profits."
Controlled Automation also allows businesses to extend production control from the office to the shop floor using its SICAM software. The software communicates between the machines and the office to increase productivity and simplify the production process. "The software can run the parts without having to manually program the machines," Coonce says. "Once the part program has been running it can communicate back with customer's production control software. The customer can then see when the part was produced and the process without having to manually input the process control system."
SICAM can automatically place beams and plates to generate optimal results and reduce material usage. The operator can also quickly create and edit the material it is manufacturing using the SICAM part editor. Support staff is also available to help correct a problem through the phone or Internet to avoid the added cost of service calls, Coonce says.
Filling Holes
The machines created by Controlled Automation are making it easier to produce items in the structural steel fabrication industry without the need of additional laborers. "We are trying to use these machines to reduce labor and material scrap cost," Coonce says. "There is a shortage of skilled fabricators today and these machines can replace the decreasing number of skilled laborers in the workforce."
Controlled Automation is featuring its angle processing line and plate plasma cutting system machines at Fabtech 2013 to demonstrate to fabricators how to cut labor and material loss.
Fabtech is North America's largest metal forming, fabricating, welding and finishing event and will be held Nov. 18 to 21 in Chicago. Controlled Automation is one of 1,500 exhibiting companies. "Fabtech brings fabricators from all across the size spectrum and the machines we brought are more in the financial range of the smaller fabricator," Coonce explains. "We chose to feature those two items for the smaller companies."
The angle processing line ABL-74T machine is a very compact, full-featured machine designed to process materials with zero material loss, Coonce explains. "It's a single-cut shear with a material weld and track station, which equals no material loss," he adds. "With a lot of our competitors, it's a double-cut." Shearing capacity is 215 tons and has a positioning speed of 0 to 180 feet per minute.
The PlasMAX machine, a plate plasma cutting system, is unique from any other plate-cutting machine manufactured by Controlled Automation because of its aluminum gantry design that allows for the highest-speed accelerations between parts. PlasMAX cuts faster than any other system and produces the most critically accurate plasma-cut parts possible. The system has smart tool holders that allow PlasMAX to know when a tool has been positioned in the holding station or is ready to cut. "We have any type of plasma the customer requires, from 80 to 400 amps of plasma," Coonce says.
Both machines operate on the SICAM software, which allows it to integrate with the other equipment in the shop and with the customer's control software. "It's a very easy-to-operate PC system," Coonce says. "All these systems we can log into over the Internet and troubleshoot, if the customer has problems."