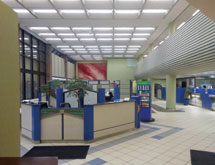 From warehouses, office buildings and malls to parking lots and curling rinks, Cool Fin LED is looking to light up Canada one building at a time. The Edmonton-based LED lighting supplier offers professional energy audits, estimates, financing options and a full, certified line of LED products to customers in the commercial, industrial and residential sector.
"We serve a vast market," says Kevin LaBranche, owner of the Edmonton-based company. "Our game plan is to go coast-to-coast, and at this point we have penetration across Western Canada and are talking to Eastern Canadian distribution entities with a hope to have distribution points across the country." The company's plans to expand beyond its strong base in Edmonton took them to the BUILDEX Edmonton show in March, where it unveiled new Solid State lighting products.
The company's products include interior, exterior, and bay lighting products. "There is a lot of LED out there, but the true quality product is hard to find," LaBranche explains. "You have to have the right combination of components, assembly, performance and certification. We can fill 85 percent of sockets in North America today."
LaBranche founded the company in 2010 after working for more than 20 years as the owner of a small construction company. "After I was introduced to LED technology about three-and-half years ago, I said I had to have more because this technology is truly amazing, and it was clear to me where the industry was going," he says. "There's a tremendous opportunity in LED because of the impact that it's going to have on our world."
A Growing Market
A growing emphasis on green buildings both in Edmonton and across the country presents Cool Fin LED with unlimited opportunities. "Canada is a very green-oriented country – people are looking for green alternatives to energy guzzling old technology, it's desired illumination," LaBranche says, "Canadian per capita power consumption is among the highest in the world, and the price of electricity has skyrocketed in recent months. Whether in our place of work or at home, switching to LED can help the environment and reduce costs. Our economy is booming, and we're very fortunate to be here – we're starting to have a larger footprint out there, and are dealing with government authorities and municipalities."
Retrofits make up a large portion of the company's work. "We have clients that have achieved LEED certifications with the switch to LED, and the reason corporations can achieve higher certifications is the fact that LED provides them with substantial energy savings," LaBranche adds. "You can replace windows in your building, upgrade your heat and air conditioning systems or use an energy-efficient carpet or window coverings, but this really is the largest single product in an office building that represents that much savings."
A Strong Education
Cool Fin LED's staff works closely with commercial building owners, architects, engineers and electrical contractors and distributors to educate them on the benefits of making the switch to LED lighting. Educational seminars, on-site test projects, lunch and learns and industry breakfasts showing the LED solution are becoming daily activities for our team as the demand for LED increases, LaBranche says. "We take energy readings and help customers see the many benefits of clean, green illumination. With the assistance of a cost analysis, customers are seeing a return on investment of well under two years with a product life span of 11 years. Once they see the results, clients move forward with their energy retrofit. "Seeing truly is believing – that's our tagline and that seems to be what's really happening," LaBranche says.
LaBranche is grateful to clients, vendors and distributors who have supported the company. "Without these key people making a commitment to a young company like us, we wouldn't be where we are today and growing exponentially," he says. "We've been told our service and product line is second to none, and we take a great amount of pride in that.
"We're very happy with where we're going and we're excited – there's just so much more than just making a sale in what we're doing here. LED is a growing movement and it's not going to slow down as long as we are providing quality products, quality service complete with industry-leading warranties," LaBranche adds.