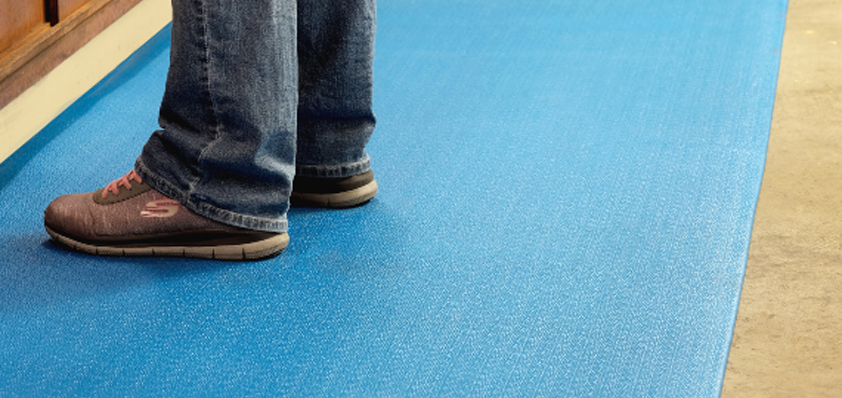 Crown Matting Technologies
After more than seven decades, some companies would be tempted to rest on their laurels, but Crown Matting Technologies keeps its business fresh. The company is currently investing in all-new production equipment that will refine its processes and create opportunities to expand its product line.
According to General Manager Josh Dusseau, these will allow the company to maintain its legacy of quality. "Based on the foundation of our new production equipment and our sales and
marketing efforts, I see another 75-plus years for Crown as the leader in the matting industry," he declares.
Based in Fremont, Ohio, Crown Matting Technologies is a division of Ludlow Composites Corporation that manufactures custom mats for commercial entrances and industrial workstation environments. Dusseau notes that Crown Matting started operations in Fremont in 1943 where it produces all of its anti-fatigue mats. The company also has an operation in Granby, Quebec, which manufactures its carpet top entrance mats.
Today, Crown Matting has a strong presence in its markets. "We've been around for a long time, and our brand is well known," Dusseau says. "Our customers would say that we provide excellent service and high-quality products that performs well in heavy foot traffic areas."
But the company also owes its success to its focus on staying innovative. Crown Foam Technologies, another division within the company, has designed and manufactured PVC and latex foam solutions for several decades. "We sell foam solutions to converters that process the foam into a variety of products," he says.
"That ISO-certified division is very scientific and data-driven," Dusseau says, adding that the company over the years has acquired the knowledge to modify the PVC foam's ability to elongate, support and last. "Those characteristics play a big role in developing matting solutions. Product development in the matting industry has been very stagnant for many years. While we provide traditional matting solutions, we also differentiate ourselves by offering premium matting as an opportunity to upgrade to protect visitors and employees from possible injury and companies from increased insurance or medical costs."
Since 1999, Crown Matting Technologies has led the market with the development of Zedlan™ anti-fatigue foam mats. Standard anti-fatigue mats have the tendency to "bottom out" when in use. The Zedlan™ technology provides three times the ergonomic support as well as five times the longevity of the mat. "There really is nothing like it in the market," says Dusseau.
Recently, Crown Matting introduced its ThermoGrip™ Antimicrobial Floor Mat. It is a vinyl-backed carpet mat that has achieved the National Floor Safety Institute (NFSI) certification. The backing technology gives the mats a non-slip surface by utilizing the benefits of proprietary compounds. "The ThermoGrip™ mats really provide everything end-users are looking for in the first line of defense to prevent slips, trips and falls at any entrance," Dusseau says.
"We have been very successful in the development of new marketing/sales tools focusing on the benefits of purchased entrance mats compared to rented mats," Dusseau continues. "We have been able to save companies thousands in facility costs with our new ThermoGrip™ entrance mats."
A major organization-wide focus is the development and distribution of new sales tools and marketing information, along with the upgrades to its website, to allow its manufacturers' reps and distribution partners access to why mat consumers should choose Crown. Crown wants to build awareness of the attributes in their entrance and ergonomic mats and what differentiates them from the competition.
Meeting Needs
Crown Matting sells its products through distribution. However, Dusseau says, the company works very closely with the distributors as well as with manufacturers' representatives to understand and satisfy the end-user's needs.
"We are a firm believer that mats are for everyone," he says, noting that one common need across its client base is the elimination of accidents and/or related work injuries. "We believe safety starts at every front door."
To meet this need, Crown Matting offers high-performing matting solutions that absorb moisture, dirt, and debris that can cause people to slip and fall on floors. Dusseau notes that mats do not have one specific market, but could be used in every location, including homes, storefronts, office buildings, universities and hospitals, as well as manufacturing facilities.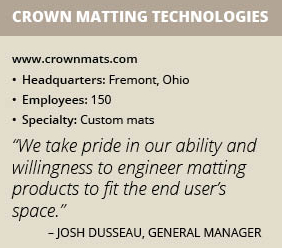 "Entrance matting does not just belong in the commercial world," he says. "Employees and visitors enter the manufacturing facility lobbies every day. Ergonomic matting does not just belong in the industrial world. Cashiers, bank tellers, pharmacists, etc., all perform their jobs with a lot of time on their feet.
"Matting is a pro-active investment. With escalating healthcare costs and litigation settlements, the products we offer reduce work-related injuries and prevents slip, trip and fall cases."
Quality Focused
Manufacturing quality is a major focus at Crown Matting Technologies. The manufacturer works very closely with its suppliers to make sure the material it receives meets the required specifications. "Garbage in equals garbage out," Dusseau says. "Raw materials are checked at every stage of our operation and verified prior to being processed and released to our shipping department."
Crown Matting also maintains long relationships with several of its key suppliers, which it has carefully selected. "First and foremost, we want people that work with us to share the same passion we have for high quality manufacturing and are in the partnership for decades to come," he says.
Dusseau's certification as a Six Sigma black belt has set lean manufacturing as an important initiative within Crown Matting. "We look at by reducing process waste to be competitive, while some organizations reduce product quality," he says.
The company also utilizes lean manufacturing when it comes to managing its inventory. "We have the right amount of inventory at the right time," he states. "We continue to evaluate sales cycles to maintain our 48-hour lead time on all standard catalog products."
Driven to Succeed
Dusseau, who has nearly 15 years with Crown Matting, is proud of its staff and its work environment. "We're able to attract and retain individuals that are passionate about what we do," he says.
Crown and its customers rely on the 20-plus years of tenure with many of the employees working in the office and within the plant.
"Their willingness to adapt to market changes, product and process innovations and continued growth is a testament to their character, dedication and work ethic," he continues. "[They are driven] to make sure we're getting better every day."