Infinity and beyond
From its 55,000-square foot factory in Cheshire, Dekko Window Systems is responsible for creating some of Europe's finest PVCu and aluminium windows and doors
Several years ago, the founders of Dekko Window Systems, Gary Torr and Kurt Greatrex, took the important decision to manoeuvre their Greater Manchester based, trade fabrication business into the market for higher-end windows, doors and associated products, a move which has proven to be very fruitful indeed.
"The last 12 months has been a very buoyant time for the company, with our range of higher-end products doing very well," Sales Director, Kurt Greatrex explains. "Thanks, in part, to the work of our excellent sales team we have witnessed strong demand for products such as our RÄUM aluminium bi-folding doors, Residence 9 PVCu windows and the Deceuninck flush sash window, which has also been driven by a move by our customers towards timber alternatives. The result has been an increase in revenues, with July/August being a record invoice month with sales up 15 per cent on the same period in 2016, albeit with lower volumes being sold. This is a reflection on how the average order value has steadily risen as customers source higher quality products."
The company's goal has always been to supply high quality PVCu and aluminium windows and doors to the UK, and it is this attention to detail that is now seeing it benefit from a clear shift in customer expectations. "Windows and doors have become much more of a lifestyle purchase, rather than simply being seen as a necessity," Kurt states. "More than just needing to be secure, efficient and so forth, the aesthetics of the product has become just as important with people taking greater interest, and spending a little more, to ensure that they have the right window or door for their needs."
Dekko Window Systems' change in focus gathered pace with an important investment made approximately 18 months ago, when the company purchased a new, state-of-the-art Graf welding machine. One of only a select few companies to utilise such technology in the UK, this machine allows Dekko Window Systems to offer smooth, seamless finishes to its premium products.
"The introduction of our Graf welder not only allowed us to offer our Residence 9 window system as part of our newly-expanded Residence Collection, but it also gave rise to our Infinity PVCu range, which is manufactured using high quality Deceuninck profiles for the highest level of both energy efficiency and robustness," Kurt adds. "By being able to offer a revolutionary product such as Infinity, with its perfectly smooth, timber-like corner joints, we are providing customers with something unique and different, and a product which is already being seen as a quality replacement to standard PVC windows."
While the company remains predominantly a trade supplier, its leading range of windows and doors have helped open the doors to it working with many of the UK's leading housebuilders. Suitable for new-build applications, multi-storey buildings and luxurious developments in equal measure, Dekko Window Systems' range of products is currently in the process of being incorporated into various projects, including the building of 48 new build homes on the south coast of the UK, and the building and supply of 1000 R7 windows to an apartment block under construction in Birmingham.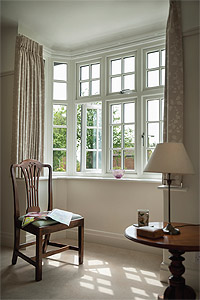 This past summer the company also received a welcome boom in interest following an appearance on the ITV programme 'Love Your Home and Garden', hosted by Alan Titchmarsh. During the episode in question, its RÄUM aluminium bi-folding doors were featured on the 'Get the Look' section, and the reaction from the public was almost instantaneous. "The show itself went out on television between 8pm and 9pm, and the first messages and emails began rolling in at 8.57pm," Kurt enthuses. "By the end of that night we had received over 100 leads, with more to follow in the days after, so it goes without saying that we were delighted with the response."
Unsurprisingly, given the success the Graf machine has helped facilitate, the company is now eyeing up further investment in innovative machinery in the near future. Further recent investment has also been made with the purchase of new machinery to expand its aluminium production and other items needed to maintain and replace its older production equipment.
"Such is our recent rate of growth and levels of activity that we find ourselves at a point where we need to look to increase our capacity as we aim to bring our lead times down and keep these at a minimum," Kurt continues. "This requires not only new machinery, but also man power in both the factory and the administrative side of the business, particularly as we want to maintain our ability to deliver quotes and acknowledgements within 24 hours.
"At the same time, we will continue to keep our focus when it comes to spearheading innovation and introducing unique products to market. We want to be leaders in our field, not followers, acting as one of the front runners when it comes to product innovation. This is something we have shown ourselves to be more than capable of doing, what with the success of RÄUM, the Residence Collection and Infinity, and being one of the first companies in the UK to perfect the use of the Graf welding machine. It is a characteristic that will be all the more important as we grow and continue to provide our customers with a high-end range of products designed to give them the competitive edge."
Dekko Window Systems
Products: High-end PVCu and aluminium windows and doors