Moving on up
Recognising that movement is vital to a person's recovery and rehabilitation, Direct Healthcare Group champions a host of revolutionary products that lead to better health outcomes and easier daily living
Human movement is fundamental to one's health and quality of life, and few understand the importance of this better than Direct Healthcare Group. By supporting both carers and those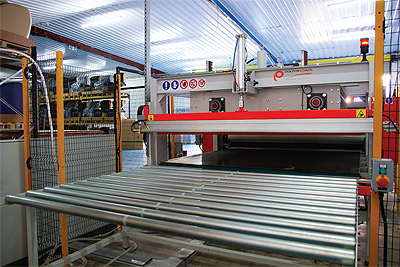 they provide care for, the group takes great pride in uniquely enabling the healthcare challenges associated with reduced patient movement to be anticipated, managed and resolved through the manufacture of a range of pressure care technologies, specialist seating and bariatric handling equipment.
"The business itself began in 2009, with the founding of Direct Healthcare Services as a designer and manufacturer of pressure area care solutions and award-winning products including mattresses, cushions and overlays," explains Group Operations Director, Gerry Boyle. "What started within a small manufacturing unit based in Caerphilly, Wales, quickly became a fast-growing business, with subsequent years seeing it being awarded with the prestigious Queen's Award for Enterprise in Innovation for its introduction of the Dyna-Form Mercury Advance hybrid mattress, and later being accredited with the Investors In People Gold Award in 2017."
A major turning point in the evolution of the business occurred in 2016 when a partnership with private equity company NorthEdge Capital helped bring about a management buyout. This allowed for the adoption of an acquisition-based growth strategy, which has seen the group acquire a number of businesses in the last two years.
"Our overriding mantra as a business is 'Advancing Movement and Health' and we have looked to reflect this as we have added to our portfolio of products," Gerry continues. "In 2016, we bought the company Nightingale, a specialist provider of bariatric solutions and services, into the group before then adding Kirton, a leading manufacturer of specialist seating solutions, to our family of businesses in 2017. More recently, the group has completed the acquisition of Qbitus Products, the number one supplier of bespoke, pressure relieving cushions, and the highly regarded Transflo Cushion brand from Karomed.
"One of our key focuses has always been the promoting of cutting-edge products that will help differentiate Direct Healthcare Group within the marketplace. The recent acquisitions and additions to our portfolio have definitely strengthened our position and given us a broader continuum of products."
Another facet of the group which has evolved greatly in recent times is the size and scope of its customer base. "Originally, we dealt a lot with Tissue Viability Nurses, but we have since expanded into working with all manner of customers, from Occupational Therapists and Physiotherapists to Manual Handling Advisors, each of which we listen to closely and work in tandem with to deliver solutions that will make a real, positive difference to the end user," Gerry says. "We are also key advocates of gathering and publishing clinical data, and this has helped to drive growth considerably, while a combination of our focus on quality, regulatory compliance and on creating efficiencies within our operational environment has also helped to give Direct Healthcare Group a strong, well-regarded reputation within the industry."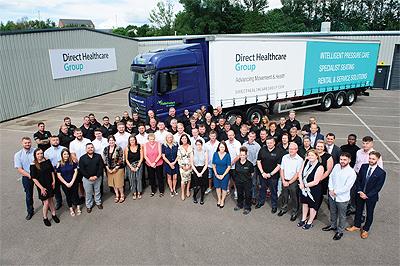 Today, the group operates from two principle manufacturing facilities, its main, 100,000 square foot site in Caerphilly and its Yorkshire site which produces its Qbitus products, as well as five regional service centres across the UK. "In the last couple of years, we have invested well over £1 million on some of the most advanced automated equipment throughout our operations, including a suite of automated fabric cutting systems with full CAD control, CNC systems for foam conversion, and state-of-the-art high-frequency fabric welders," Gerry states. "At the same time, we have introduced modern ERP systems to link our front office, back office and field service functions, have adopted a GS1 compliant barcoding system to provide full traceability of all of our products, and opened the doors to our own in-house R&D technology and testing suite."
The most recent addition to the group's infrastructure network came in February 2018, with the opening of its first depot in Scotland. "This location, along with a number of newly established depots in London, South Wales and in the North East of England, has established complete UK-wide service coverage," Gerry adds. "Between these facilities and our large fleet of fully kitted out service and rental vehicles, we are able to deliver on our promise to provide a four-hour maximum delivery time, wherever our customers are based."
Playing a vital supporting role in delivering the above promise is Palletways, the group's recent appointed national palletised network supplier. "It is of great importance that we have a reliable pallet distributor to keep up with growing demand and support us in our service delivery," Gerry details. "Our newly formed relationship with Palletways Cardiff is already reaping rewards and has really allowed Direct Healthcare Group to extend its capability to bring high quality products to its customers."
With 2019 fast approaching, the Direct Healthcare Group family are excited about the pipeline of new product developments that it has on the horizon, as well as the organic and acquisition-based growth strategy that it intends to move forward with over the next 12 months. Meanwhile, from an internal perspective, the group remains committed to scaling up its employee base, to investing further in advanced technologies and automated equipment, and driving efficiencies across its business systems. "This is the path that we plan to travel along going forward as we look to grow further still in the coming years," Gerry concludes.
Direct Healthcare Group
Products: Pressure care technologies, specialist seating and bariatric handling equipment