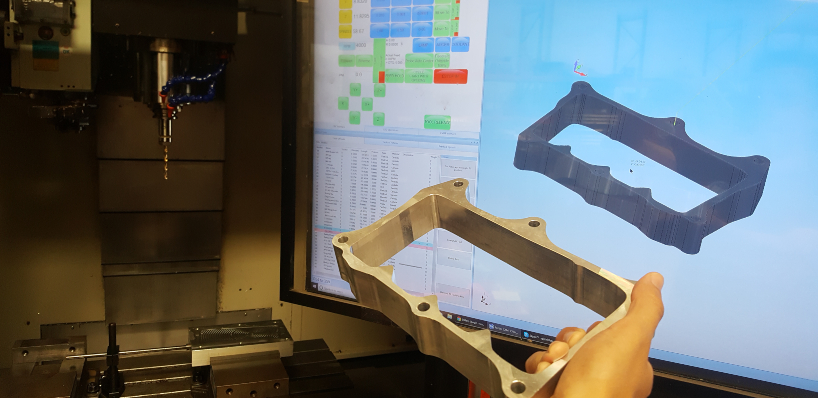 Over the past 20 years, China has grown from nearly zero to the world's largest manufacturer. How and why? "A key reason may be that China does not use many job shops," CEO and Founder Jim Trounson says. "Chinese manufacturers do most manufacturing in-house."
How much of China's fast growth is due to this vertical integration/in-house production? Is the existing United States job shop concept a drag on United States manufacturing? "It may be that the inefficiencies associated with job shops have slowed U.S. manufacturing growth," Trounson adds. "In-sourcing CNC work should make U.S. manufacturing companies more efficient."
There are two categories of U.S. manufacturing companies discussed in this article:
No. 1 is 20,000 job shops that have machine tools but don't manufacture their own products.
No. 2 is about 300,000 small- and mid-size manufacturers that produce their own products using job shops for the CNC work.
"United States manufacturing is organized around type No. 2 manufacturing companies sending $40 billion per year of contract work to the type No. 1 job shops," Trounson explains. "This averages out to $150,000 per year cost for each manufacturing company and $2 million per year income for each job shop."
"There are some advantages to using job shops, such as no upfront machinery cost and no in-house CNC expertise required," Trounson continues. "However, in most cases, there are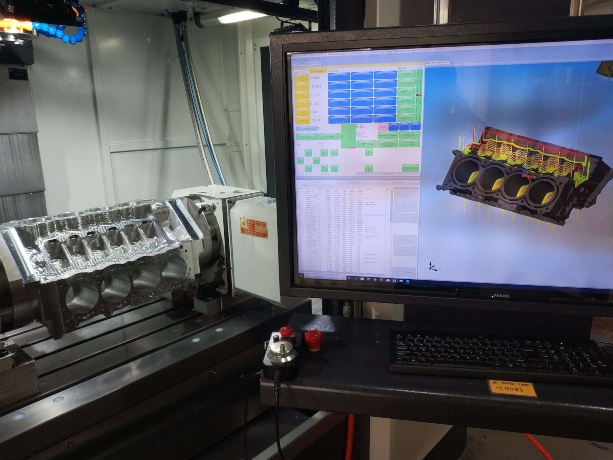 disadvantages such as higher ongoing costs, time delays, quality control issues and less control over details. "Fear of the unknown, cost and time frame leads manufacturers to continue their use of job shops. "Manufacturers really don't' know how to bring CNC work in-house."
Bringing Manufacturing In-House
Direct Motion is a CNC hardware and software company based in Chino, Calif., that hopes to revolutionize the manufacturing industry with its high-performance vertical machining centers powered by 4C – its PC-based software and control system. 4C seamlessly integrates 3D CAD/CAM/CNC/CMM in one easy-to-learn package with no outside software. A 3D solid model is imported or produced right on the machine using the 40-inch 4K touch screen operator interface. There is no concept of downloading G-codes between the CAD/CAM and CNC.
"The big idea here with 4C is to take the machine tools out of job shops and put them into the manufacturers' factories," Trounson explains. "The job shop market in the United States is huge at $40 billion a year. It's valuable because specialists are required to run software, equipment and machinery. 4C makes these processes more easily available and should allow more work to be brought in-house. We think rather than going to job shops, 4C will allow manufacturers to bring more in-house."
4C powered machine tools allow a manufacturer to put a piece of material in the machine and have a part ready in their hand that same day. "With job shops, there is time spent negotiating, shipping costs and generally a lot of hand-holding," Trounson says. "Instead, they could just make the part. Those people understand their work better than the job shops, so if it's easy enough, wouldn't it be better to just do it yourself? If you want something done right, do it yourself."
4C reduces the CNC programming learning curve to make insourcing possible and practical. Industry standard CAD/CAM systems require that the entire toolpath is programmed then the complete toolpath program is downloaded as G-codes to the machine where the CNC cuts the part. This download process leads to time delay. If any change is need, it's back to the CAD/CAM in the office and download G-codes again.
The interactive nature of 4C's "shop floor programming" changes all of that. "4C integrates CAD/CAM/CNC/CMM together," Trounson says. "Because the operator specifies and has full control over the toolpaths, they can make changes and start cutting instantly – no downloading their G-code program or using an offline CAM system. These at the machine changes take seconds compared to the offline G-codes-based systems, which take minutes. Since many programs require many changes to perfect, this all adds up to big time savings."
For example, JFC Racing in Auburn, Wash., designs billet race engines and manufactures them on a 4C powered machining center. They import a 3D STEP file into the machine where the CNC work is performed. This allows them full control over manufacturing details compared to contracting with job shops. "Making changes on the CNC is really important to getting exactly what we want," says Jacob Blagg, race engineer at JFC Racing.
4C has also helped JFC produce other parts that are unrelated to their primary product, such as specialized tools that they need to assemble their race engines. Without this ability, they would have to special order these tools, or contract to a job shop to make them. Both options are time-consuming and expensive.
Insourcing also improves quality control and the turnaround time is one hour. "Job shops are not experts in their customer's products, so by bringing the work in-house, manufacturers can oversee quality as the parts come off the machine," Trounson explains. "Job shops run the entire order and hope it's right."
Simplifying the Process
Trounson began researching and developing the single processor PC-based CNC concept in 1985 when he founded Direct Motion. Its first systems were sold in the early '90s when the company was known as Micro Motion and sold knee mill retrofits.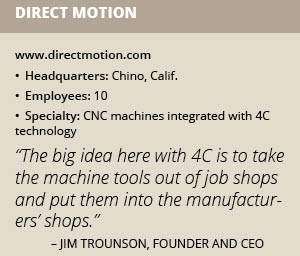 In 1996, Direct Motion relocated to southern California and started working with Taiwanese importers. Around this time, the company discontinued its CNC retrofit packages and started selling new knee mills and bed mills with its control system. The company then converted its CNC software library to run on the Windows 95 operating system in 1998, and one year later, its single processor control patent was granted.
In 2002, Direct Motion started to offer 5 axis CNC porting and digitizing services using its own technology in-house. In 2005, Kent, Wash.-based Rottler Manufacturing's engine building machines began to feature Direct Motion CNC controls. There are now thousands of Rottler machines running Direct Motion controls.
In May 2013, Direct Motion began its VMC project. The company hired a full-time Chinese speaking agent to assist with this project. After visiting more than 10 machine tool factories, Direct Motion selected a machine tool supplier and ordered VMCs to get the project off the ground. Direct Motion filed for a patent on its 4C technology in 2017.
Although Direct Motion has changed over the past 34 years, its single processor PC-based CNC concept remains the same. "The advantage we have brought to the table is the ability to adapt, modify and improve the software so manufacturers could do everything at the machine," Trounson explains. "It's fast to learn and there is no required offline programming. You can walk up to the machine, design, program and cut a part in minutes. The programming required on general purpose machine tools is more open-ended and there's a large variety in the parts made. We have taken the same at the machine programming experience we gained from Rottler's engine building machines and applied it to general machine tools, which is a much larger market."
Direct Motion monitors routine data from all machines in the field to its AWS servers, which allows the company to know instantly if there is an upset, failure or crash on any machine to alert the customer. With conventional machines, someone has to go and look at the machine to know if something went wrong. "With our machines, we will know when something's wrong, can diagnose the problem and send a part or person to fix the problem," Trounson explains. "We know before the customer knows, which can allow preventative action to be taken to avoid larger problems."
Direct Motion plans to continue getting the word out about its 4C technology and how it can benefit small- to mid-size manufacturers. "We are trying to get companies to insource and simplify the manufacturing process," Trounson says. Contact Direct Motion if you have a project that might benefit from insourcing CNC work.