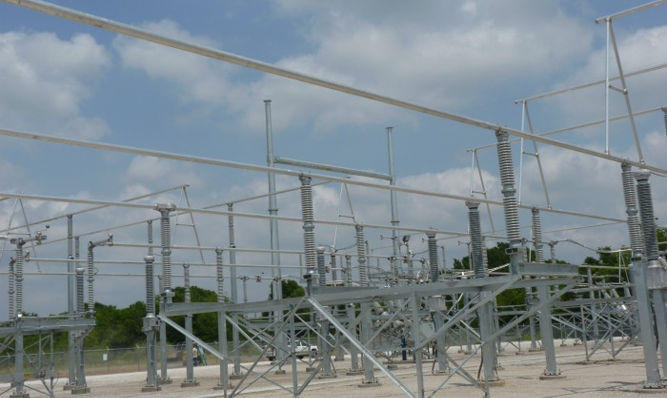 From raw material to the finished product, DIS-TRAN Steel designs, details and fabricates structures for utility systems and various arrangements for substations and transmission structures, including standard shape steel structures and large tapered tubular structures. Thanks to its talented, experienced engineers and steel detailers, DIS-TRAN delivers a high-quality and high-performance product to its customers in the utility industry every time. The company credits its long-term success since 1965 to its excellent customer service and to building honest relationships with them.
It all started with Tucker Robison who founded Mid-State Supply Company from the trunk of his car. With ambitions of solving his customers' problems and providing superior quality and service, Robinson grew his trunk into Crest Industries. Today, DIS-TRAN Steel and each of the other Crest Industries companies continue to instill the philosophy of honesty, integrity, product knowledge and quality service.
"The easy answer for why we're successful is quality and service, but it really comes from the exceptional service and relationships we've built with our customers," President Donnie Roberts says. "A large potion of our business is partnership alliance agreements. Those are the relationships [that] make a win-win for you and the customer. You add value for what you're providing. We're readily available from a people standpoint. My phone rings, I answer it. I'm always available if people need something. That personal touch and relationship has turned spot-buy customers into repeat customers into more partnerships."
"Our customers trust that we're going to do what we say," Vice President of Business Operations Pat Smith agrees. "Once you get that trust built, you can run with something that is beneficial for them and it becomes a win for us."
Quality Product
DIS-TRAN's state-of-the-art 300,000-square-foot manufacturing facility allows it to fabricate any size project. Thanks to the high demands of the industry, the company decided to invest largely in its equipment and machinery to ensure it is fabricating the highest-quality product on a consistent basis. Additionally, DIS-TRAN is exploring geographic growth to support some of its organic growth.
"We've made pretty large investments in equipment," Roberts says. "In the manufacturing industry, that's what it's all about: leveraging automation and new technology. We try to stay abreast of things like that going on in the industry."
DIS-TRAN makes a completely engineered product every time. That is because every customer comes with their own specifications that the company must deliver on with different design conditions and requirements.
Some of the latest innovations for fabricating DIS-TRAN uses include:
* 60-inch CNC press brake
* High-definition plasma cutters
* Laser cutting systems
* Plasma drilling systems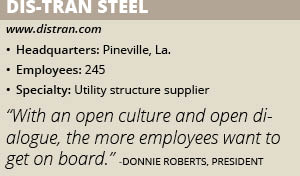 * Robotic welding systems
* CNC-controlled seam welders
* CNC drilling machines
* CNC punches
* CNC angle lines
DIS-TRAN's in-house quality control system ensures every item meets the most strict quality requirements. The company is certified by the American Institute of Steel Construction (AISC) and the American Welding Society (AWS), and all welds are performed by certified welders and inspected by certified weld inspectors. Plus, the company employs internal metrics to measure success in safety, quality and meeting customer commitments.
"We initially created our dashboard to track everything from operations to expenses to safety," Smith explains. "As that has evolved, we began to use that tracking to improve what we're doing. From a performance point of view, that helps us dig down into the aspects of our operations. From a quality point of view, we've maintained a database of every issue we've ever had and track those internally."
Renewed Focus
Like most companies in the manufacturing industry, finding skilled labor can be a challenge. But DIS-TRAN has turned it around by positioning intensive training as one of its core competencies. The company employs a full-time trainer who improves the skills of workers with company tenure while getting new recruits up to speed.
"We've got guys with 30-plus years in the shop that have been through all the technological changes and are very adept at whatever the particular customer requirements are, and that's a huge advantage in having that tenure," Roberts says. "They're transferring that knowledge base to the new generation of workers."
Thanks to this shift in focus on training and enhancing its skilled labor, the company has a positive outlook for the future. Plus, DIS-TRAN strives to promote a family environment with an open dialogue among its people. "We rely on those guys heavily as far as transferring the vision and making it a reality," Roberts continues. "We set goals like anyone else, but we're open with our people about financial information, what we're trying to achieve and why. With an open culture and open dialogue, the more employees want to get on board. Everyone wants to win. Whether it's business or life, we want to win, too."
"Our guys take ownership, they want to succeed, which makes the whole company succeed," Smith adds. "It's working."
DIS-TRAN Steel plans to continue its aggressive growth path, focusing on continuous improvement with its operations and people and driving that improvement to the next level. "We'll continue the path we're going and really dig into the operations with systems and processes that we are putting in place. We have an aggressive vision but it will make us better and more competitive at what we do."