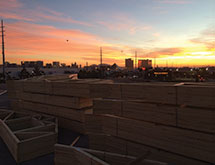 Dogtown Truss and Components
As the largest locally owned truss company in Las Vegas, Dogtown Truss and Components excels with finely honed production methods.
It produces fabricated roof and floor trusses. The company stands out with high-quality standards.
"Our attention to quality and the high standards we adhere to are unmatched by any of our competitors," says owner Jay Manning. "Other truss operations may meet code but just because a truss is adequately designed does not make it a good product. While our competitors may design and fabricate to satisfy the minimum code requirements, we are committed to exceeding the code requirements and design a good, sturdy product."
Jack of all Trades
Manning started working in the truss business at the age of 15. He has been in the business for 23 years now, starting his own truss company at age 30. He has gone from designing trusses on a laptop computer in a one-bedroom apartment to managing a multi-million dollar truss facility.
Needless to say, he's learned a few things along the way. Manning has worked in all capacities of the business, be it designer, manager, delivery driver, repair crew or owner. This allows him to understand the work of others on the team and pinch-hit if needed. "Some days I am driving a semi, running the forklift or feeding the saw," he says. "I also may be designing trusses. This flexibility affords Dogtown Truss the ability to get the job done for the customer on time."
The Las Vegas construction market has declined more than most local markets in nation over the last several years. In fact, some analysts have said it decreased the most in the United States during the 2008 recession. Dogtown Truss survived the downturn when others went out of business. When the market rebounded, this left the company in an enviable position, however.
"Las Vegas was hit hardest with foreclosures and unemployment, many of our competitors went out of business," Manning says. "Now, we are the only locally owned truss company in town. We live here and invest in the success of the community. This gives us common interest with the homebuilders and framing contractors."
Although Dogtown Truss is the only local company in its market, it still competes against larger companies. It delivers better quality and service because it is nimble and quicker than large companies with sizable bureaucracies.
When there is a problem, Manning can handle it himself quickly while problems must go through several layers of paperwork and procedures at big companies for resolution.
"We don't get caught up in corporate mandated processes," Manning says. "I can make a decision on the spot to adjust to the needs of our customers. We strive to accommodate our individual customers in a timely manner and are not slowed down by a cumbersome and complicated management structure."
Dogtown Truss' innovative patent-pending production system also improves outcomes for customers. This allows it to compete on price, quality and service. It thrives working on residential and commercial projects as well as engineering services.
"We are proud to offer an unmatched service and product to contractors and homeowners alike," the company says. "Here, we pride ourselves on providing our customers with a superior product and service at a competitive price. Whether you are a contractor with multiple projects or a homeowner building an addition to your home we will provide you with a personal, appreciative and quality experience."
Since Dogtown Truss and Components was established, the housing market nationally and locally has been distressed, to say the least. Manning, figured it would be the perfect time to start a new truss manufacturing company with a completely different business model than those in the market.
With a new business model introduced to the market Dogtown Truss quickly became an alternative to the larger, corporate-minded truss manufacturers by offering a highly competitive price as well as a unique product and service. Dogtown Truss and Components has therefore grown exponentially since its conception and plans on expanding and continuing to offer the same service and product to all of their customers and future projects.
Positive Forecasts
"According to the economic forecasts, the housing market here is going to continue to grow," Manning relates. "Las Vegas has a strong economy and a strong job market."
Construction is the second-largest business in Las Vegas, so Manning is optimistic about future business. "We've seen a marked increase in the number of projects we have under design and fabrication. As the overall economy has improved, builders are increasing their productivity thereby increasing the demand for trusses. We expect this trajectory to continue moving forward. Las Vegas is diversifying and attracting more businesses to the area. The continued need for housing and supporting infrastructure will continue."