Building a safer world
Dynasafe specialises in engineering technologies that neutralise remediate explosives and munitions, thus tackling critical challenges associated with public safety and security
Utilising its reliable method of destroying conventional and chemical munitions and improvised explosives, Dynasafe has delivered over 350 containment chambers and 30 demilitarisation plants globally since the company's establishment in 1991.
"With fewer than 38 employees together in Karlskoga (Sweden) and Langenselbold (Germany) where we engineer our products, we have emerged as the innovation leader with our explosive containment chambers and demilitarisation plants. Our systems are deployed in more than 70 countries," CEO, Klaus Mailer points out.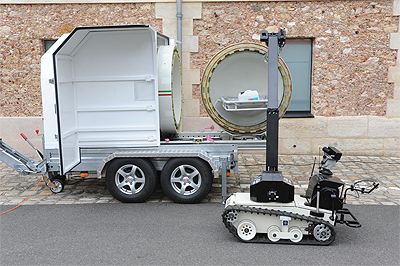 The production and sale of vented and gas-tight explosive containment chambers forms Dynasafe's Protection Systems division, while the Demilitarisation Systems department is defined by the company's engineering and provision of systems for thermal destruction and mechanical disassembly, as well as of complete plants. Most recently, Dynasafe has also been trying to leverage its competence in the treatment of toxic off gas resulting from the destruction of weapons or ammunition through its Environmental Systems division.
Discussing Dynasafe's method of ammunition destruction, Klaus remarks that the technique is unique and developed by the organisation and it is the only one in the world to apply it. "Basically, we heat up the ammunition in an indirect heated armoured chamber to the autoignition temperature of all known explosives where it is detonated and left to burn out, so that only scrap and the toxic off gas remain after the treatment. The off gases are then processed, making sure that we adhere to all environmental standards and demands in the area where we build up our systems."
Earlier this year, Dynasafe announced the launch of two new explosive storage chambers – DynaLOCKR F7 and F10, in response to growing market needs. These chambers are considered to be urban magazines where small amounts of explosive materials are stored. A one-drawer chamber system, the DynaLOCKR F7 can contain a two-kilogramme TNT equivalent charge, while the F10 is a two-drawer system capable of containing a 1.5-kilogramme TNT equivalent charge. Both products have been designed to serve a wide spectrum of requirements for the explosives engineering, blasting, drilling, mining, fireworks, and pyrotechnic industries.
"These systems are more apt to be used for long-term storage," comments Klaus. "They allow first responders to store tactical explosive tools in their command centre, so, for example, a police station can store a hand grenade before it gets transported to a place where it can be destroyed. This marks some shift from the requirements for short-term containment chambers we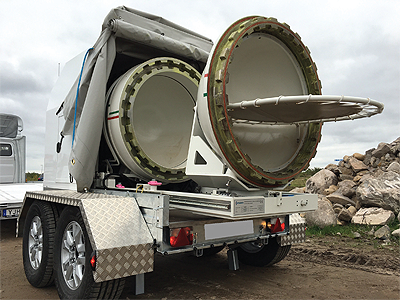 have traditionally had to address when serving areas such as airport security, law enforcement, and public security."
Klaus continues: "We have definitely seen a reaction from the market in the wake of the terrorist incidents that, unfortunately, hit Europe in the past few years. More explosion containment chambers are now being commissioned and this is especially relevant in big cities where local police are required to deploy tools that will enable them to respond quickly to an emergency.
"Moreover, because the world continues to become more mobile and people travel more, airport authorities will need to provide higher security levels while not negatively impacting the travel experience. We are active in this area and we expect to win new business, as no airport can afford to shut down if there is a threat," he analyses current market conditions and trends.
Owing to the multitude of ongoing projects in which Dynasafe is engaged Klaus is more than optimistic that the rest of 2019 will be a very strong period for the company. "I venture to predict that we will be able to double our turnover this year," he says. "As a matter of fact, we anticipate the same high level in 2020 and 2021, too. When the Chemical Weapons Convention entered into force in 1997, it set a deadline for all the countries that signed the treaty to destroy their chemical weapons stockpiles by 2023 and, right now, we see a significant increase in demand for destruction plants from those countries that still have stockpiles to eliminate."
Klaus also shares his aspiration to see Dynasafe directing more resources into its Environmental Systems business in the next five years. "It is a relatively new activity area for us, but one that has a very good potential. We have just assembled a dedicated sales team to get our off-gas treatment systems out into new markets. While it will take a few years to grow in this sector and become a big player, we are convinced that it is a feasible long-term objective for Dynasafe," he concludes.
Dynasafe
Products: Containment chambers and demilitarisation plants